The Mario Drawing Song
From the Super Mario Wiki, the Mario encyclopedia
Jump to navigation
Jump to search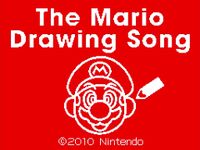 The Mario Drawing Song (Japanese マリオ絵描き歌, Mario Ekaki Uta) is a composition made using Flipnote Studio. It was created and released by Nintendo to promote the Super Mario Bros. 25th Anniversary-themed competition "Make Your Own Mario Flipnote" on the application. Part of it was arranged as the map theme of Special 8 in Super Mario 3D Land. The song also appeared at the end of The Cat Mario Show. The player can also listen to the original version of the song by pressing and holding
while the digital clock is active in Game & Watch: Super Mario Bros.
The song is available in seven languages: Dutch, English, French, German, Italian, Japanese, and Spanish. Nintendo of Europe produced six of these based on the original Japanese version. Nintendo of America adopted the English, French and Spanish versions without alterations.
English
[
edit
]
Take a page and a pen,
Draw a big mushroom
Add an egg then two more
Draw a cloud under here,
Now we'll add some coins
One, two, three
One, two, three
Draw a hill at the back
With a rising sun
Add a little bird and then
It's me, Mario!
Japanese
[
edit
]
Japanese lyrics
Romanization
Translation

ひとつキノコがありました
たまごみっつ
もくもく雲がやってきて
コイン コイン コイン
コイン コイン コイン
お山に朝日がのぼってる
カモメを描いたら・・・
イッツ ミー、マリオ!

Hitotsu kinoko ga arimashita
Tamago mittsu
Mokumoku kumo ga yattekite
Koin koin koin
Koin koin koin
Oyama ni asahi ga nobotteru
Kamome o kaitara...
Ittsu mī, Mario!

There was one mushroom
Three eggs
A rising cloud comes along
Coin, coin, coin
Coin, coin, coin
The morning sun rises on the mountain
When you draw a gull...
It's me, Mario!
French lyrics
Translation

Sur une feuille de papier,
trace un gros champi.
Et des œufs, trois en tout !
Trace ensuite un nuage,
et ajoute des pièces.
Trois ici,
et trois là.
Par-dessus dessine
une colline et la lune.
Pour finir, fais un petit oiseau.
It's me, Mario !

On a piece of paper,
draw a big 'shroom.
And eggs, three in all!
Then trace a cloud,
and add coins.
Three over here,
and three over there.
There above draw
a hill and the moon.
To finish, make a little bird.
It's me, Mario!
Spanish
[
edit
]
Spanish lyrics
Translation

Vamos a dibujar
un gran champiñón,
un huevo aquí... y dos ahí...
una nube
y monedas en cantidad:
¡Clin, clin, clin!
¡Clin, clin, clin!
Ahora va la colina,
el sol que ya salió
y ese pájaro que se va...
It's me, Mario!

We're going to draw
a big mushroom,
one egg here... and two over there...
a cloud
and coins galore:
Clink, clink, clink!
Clink, clink, clink!
Now goes the hill,
the sun that already rose
and that bird that is flying away...
It's me, Mario!
Italian
[
edit
]
Italian lyrics
Translation

Con un fungo comincia,
Poi metterai
Un uovo qua, due là
Una soffice nube,
Monete a volontà
Un due tre
Un due tre
Dietro il monte al mattino
Fa capolino il sol
E un gabbiano che vola via.
It's me, Mario!


Begin with a mushroom,
Then you'll place
An egg here, two there
A fluffy cloud,
Coins galore
One two three
One two three
From behind the mountain at morning
The sun peeks out
And a seagull that flies away.
It's me, Mario!

German lyrics
Translation

Mal 'nen Pilz auf das Blatt,
das du vor dir hast.
Dann ein Ei - dann noch zwei.
Jetzt erscheint eine Wolke
und Münzen drauf.
Eins, zwei, drei!
Eins, zwei, drei!
Da erhebt sich ein Berg
und die Sonne geht auf.
Mal 'nen Vogel davor und dann:
It's me, Mario!

Paint a mushroom on the paper
that you have in front of you.
Then an egg - then two more.
Now a cloud appears
and coins on it.
One, two, three!
One, two, three!
There rises a mountain
and the sun comes up.
Paint a bird in front of it and then:
It's me, Mario!

Dutch lyrics
Translation

Neem papier en een pen,
schets een paddenstoel
En een ei, twee opzij
Teken heir nog een wolk
en wat muntjes daar
Een, twee, drie
Een, twee, drie
Maak een omgevallen maan
met een zon ertegenaan
En een vogeltje. Wie is daar?
It's me, Mario!

Take paper and a pen,
sketch a mushroom
And an egg, two to the side
Draw another cloud here
and some coins there
One, two, three
One, two, three
Create a fallen moon
with a sun against it
And a bird. Who is there?
It's me, Mario!

External links
[
edit
]
See also
[
edit
]