The 'Shroom:Issue XCI/Palette Swap
From the Super Mario Wiki, the Mario encyclopedia
Jump to navigation
Jump to search

Greetings, everyone, for the October issue of Palette Swap! This month we have two fantastic articles from Yoshi876 (talk)! You really ought to check them out! As usual, I am always accepting applications if you are interested in writing for us! Send me a PM on the forums and we can definitely work something out! With that, on to the art!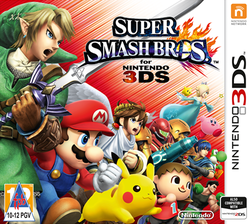 Hello 'Shroom readers, as many of you are aware the latest installment in the Super Smash Bros. series has just been released, so to celebrate that I have chosen the South African boxart for Super Smash Bros. for Nintendo 3DS. The characters featured on the boxart are Link, Mario, Pit, Pikachu, Villager, Samus, Marth, Rosalina and Luma, Little Mac, Yoshi and Kirby. Not much to note about these other than the fact that most are representing some of Nintendo's biggest and most popular franchises. A little note with the characters is that Pikachu, Villager, Yoshi and Kirby are all smiling, whereas the other characters (minus Rosalina and Samus) all have serious expressions on their faces. Arguably this could be because the smiling ones are from series that are more aimed at children, as the characters with serious faces usually don't get ratings that mean everyone can play them, but Mario stands out from this as his games generally are. Only spin-offs receive higher ratings, so maybe he's just serious as he's Nintendo's flagship character so he has to be serious for the occasion. As mentioned previously Rosalina and Samus don't fit into the serious / smiling category, although due to the helmet it's impossible to say what Samus is feeling. However, it is obvious with Rosalina, she has a slightly shocked or scared face showing that she may be nervous as this is her first Super Smash Bros. appearance. The background of the boxart is red, maybe showing the blood that will be split as these characters duke it out.

Ongoing Fan Projects (Yoshi876 (talk))
Well, everyone, it's October, and you all know what that means! The cold! Being somewhat serious now, we all really know what October is all about: Halloween. So, for you all this month, I have this sprite of a Snifaro from Mario & Luigi: Partners in Time:

! Look at this one, all dressed up for what seems like no reason at all. Do they do Halloween in the Mushroom Kingdom? Do Mario and Luigi go trick-or-treating with the babies? Does Bowser give away candy? Well, I can bet that Bowser Jr. would be the one going around TP-ing people's houses, seems like something he'd do for sure.

---