The 'Shroom:Issue LXXXVIII/Palette Swap
From the Super Mario Wiki, the Mario encyclopedia
Jump to navigation
Jump to search

Hello, all! Not much to report for this month, so let's get to the art, shall we?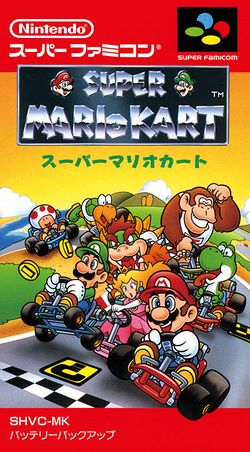 Hello 'Shroom readers, I hope you're enjoying this Mario Kart 8 themed issue. I've already covered the Mario Kart 8 boxart, so I thought I'd take you back to the very first Mario Kart game, Super Mario Kart. In this boxart you can see all eight drivers driving on an unknown track with, you guessed it, Mario in the lead, possibly even about to win. Most of the drivers in this boxart are using their artwork from this game, most notably Koopa Troopa who has hit something causing him to lose control of his Kart, which could be disastrous, if this wasn't Mario Kart. You can also see some ? Panels on the track, these give items, but the only ones seen on the boxart are coins and they don't come from ? Panels in this game. The previously mentioned unknown track can be speculated as to what it is, the right side suggests a circuit so maybe Mario Circuit, whilst its track limits are grassy so possibly Donut Plains, however, the sea background could potentially mean that it is Koopa Beach.

Ongoing Fan Projects (Yoshi876 (talk))
Keeping with this month's "Mario Kart 8" theme, this month's sprite will transport you back in time to a simpler era where you only had 8 racers and 20 racecourses to choose from! Wow, Nintendo sure has changed since then. Anyways, here's a sprite of an item that everyone should know: a star!

It's from "Super Mario Kart"! Anyone remember that race? That star has become one of the most memorable items in Super Mario history.

---