The 'Shroom:Issue LXXI/Retro Feature
From the Super Mario Wiki, the Mario encyclopedia
Jump to navigation
Jump to search
Fawfulfury65
First article:
Trivia, Issue XXXIX
Last article:
Screenshot of the Month, Issue LXV
Sections Written:
Fun Stuff: 15
Music & Art: 48
Positions held:
Music & Art Director
HI, fellow Mariowikians! I'm your squeaky-clean Co-director, Tucayo, and welcome to another trip into our newsletter's past! Let's be honest, this is a majorly-male community. Even so, we've had a couple of noticeable females in our team. One of those is none other than Fawfulfury65 (talk), who holds the record for most Music & Art sections written.

Megamariofan65, as she was originally known when she joined the wiki on April 25, 2009, stumbled across the wiki on her search for information about then-called Mario and Luigi RPG 3. About a month after joining, she lost her password and created the account we are familiar with, Fawfulfury65. Her hard work on articles about Yoshi's Story and Donkey Kong Country quickly drew the attention of the admins, and, after being suggested by Super Mario Bros. (talk), she was promoted to patroller status on April 20, 2010. It took her less than a year to work her way up to sysop, and, exactly 8 months after being promoted to patroller, she became sysop.

Her history with us begins between her two promotions. In June 2010, she started on the Fun Stuff sub-team as the Trivia writer, but her section was actually a Quiz, rather than trivia, so she was switched to the Quiz section after Issue XXXIX. A couple of issues later, Fawfulfury debuted in the sub-team that would eventually become hers. She started on Issue LXI with the Screenshot of the Month section, which she would go on to write until the day of her retirement from The 'Shroom. Only eight issues after joining came her promotion to the Core Staff. Super Mario Bros., the M&A Director at the time, had just won the Director Election, which meant someone else had to take the reins of our artistic team. The choice was fairly easy, Fawfulfury had been one of the most consistent writers on the team, and so she became Music & Art Director.

Throughout her term she wrote more sections than just the Screenshot of the Month. For Issue L, Fawfulfury wrote 6 sections, which until now remains as the most sections anyone has written in a single issue for the M&A team. From early on she also set herself as the most prolific M&A writer, title she still retains. And it may be a while until someone else takes that title. After various time constraints, Fawfulfury had to quit her Fun Stuff position after Issue LIII, and her Core Staff position after Issue LXI. Despite this, she stayed as our Screenshot of the Month writer for four more issues, before resigning from that position as well. And she had a nice sendoff, winning her only SOTM Award with her last section.

In 2011, she won a Golden Mario and a Golden Toad in our End-of-Year Awards; and, in 2012, she won a Diamond Luigi, a Diamond Toad and a Diamond Bowser. Her 25-issue streak without missing a single section should be noted as well, not everyone can accomplish that. I wish I had had the pleasure of working with her for more than the three issues I actually worked with her, but from what I saw month to month, I could tell she was a great Core Staff member.

Since I want you all to look at as many of her sections as you can, this month I will present you a selection of four of the six sections Fawfulfury wrote for Issue L. Enjoy!
Character Artwork of the Month (Fawfulfury65)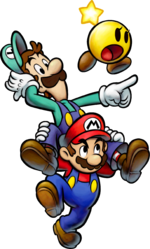 This month's Character Artwork is a picture of Mario, Luigi, and Starlow during the events of Mario & Luigi: Bowser's Inside Story. In this artwork, Luigi is mounted on Mario's back, while Starlow is apparently startled at something. Ever since I first saw this artwork, I've liked it quite a lot. It has a cool art style and the characters are drawn exceptionally well. It seems to be extremely difficult to draw. I also like how colorful it is and how well shaded the characters are. The file is also very high quality and pretty big. This is definitely a great artwork for this month's issue!

Boxart of the Month (Fawfulfury65)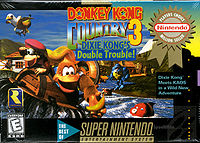 This month's Box-Art of the Month is from the North American version of the Super Nintendo Entertainment System game, Donkey Kong Country 3: Dixie Kong's Double Trouble! As the game's name suggests, it is the third game in the Donkey Kong Country series, which features Dixie Kong and her little cousin, Kiddy Kong, who both go on an adventure across the Northern Kremisphere. These two characters can be seen in the very front of the box-art, alongside a few enemies, a Banana Bird, and Funky Kong. Not only are a handful of characters on this fantastic box-art, but there is also a lot of detail and colors. You can see a few of the areas from the game on it too, such as a Brothers Bear cabin and Funky's Rentals. Additionally, the picture is very big and high-quality. To sum everything up, this box-art is absolutely fantastic and is very fitting for such a great game.
Screenshot of the Month (Fawfulfury65)
Welcome back to the 'Shroom's Screenshot of the Month, with your host, Fawfulfury65! Since this month's 'Shroom is issue L, I decided to pick an image with Luigi in it. This picture displays the mustached sidekick hero standing on a grassy planet during the events of Super Mario Galaxy 2. In the background, one can see a canopy and large amounts of sunlight that pass through it. The sunlight makes the image very flashy and cool. Along with these several neat aspects of the image, it is also very high in quality and big. Well, that's about it. Tune it next month for another great Screenshot of the Month!
Soundtrack of the Month (Fawfulfury65)
For the 50th issue of the 'Shroom, I chose a piece of music from the recent Nintendo DS game,
Mario vs. Donkey Kong: Mini-Land Mayhem!
This is one of my favorite video game themes, which plays in the final world of the game. I find it to be very unique compared to the other themes in
Mini Land Mayhem!
, as it is a little slower and uses a lot of band instruments. I especially like the sound of the brass instrument (I'm assuming it's a tuba or another low brass instrument) in the background that plays the bass part. It is a very exciting piece of music and fits the setting perfectly.
That's it for this month's trip to the past! If you have any suggestions of who you'd like me to cover, drop a line on my talk page. Enjoy the rest of the issue, BYE!