Star Carnival
From the Super Mario Wiki, the Mario encyclopedia
Jump to navigation
Jump to search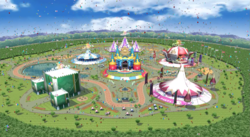 "Welcome to the Star Carnival! What's our main attraction? You, of course! Get ready to party like never before! We've got it all! Minigames to make you move! Boards that make your party groove! So come one and come all! What fun we'll have! Clashes! Crashes! Brawls! Falls!"
The Star Carnival is a carnival happening once a year. Its only appearance thus far is in Mario Party 8. Mario, Luigi, and all their friends come to their carnival in the game. MC Ballyhoo and his hat, Big Top, are the hosts of the carnival. All of the tents and buildings in the fair are entrances to the party and minigames. Each time the player starts the file, MC Ballyhoo will fly up to the screen and welcome the player to the Star Carnival, after which they will be presented with the main menu.
Star Carnival Areas
[
edit
]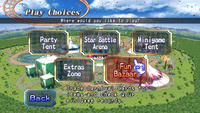 Many separate areas collectively comprise the Star Carnival:
Party Tent – The Party Tent is on the lower right side of the carnival.
Star Battle Arena – Characters face off in various boards, trying to get Stars. It is located at the top right, but it is played on the Star Carnival Stage in the center of the carnival.
Minigame Tent – An arcade in the Star Carnival. Miis, Koopa Troopas, Shy Guys, Goombas, and many other species come to have fun here playing minigames. It is located behind the big stadium in the middle of the carnival.
Extras Zone – A tent full of games that even Miis can play. These games are found nowhere else in the carnival. It is located at the top left of the carnival.
Fun Bazaar – Characters can come here to buy things such as games and music, in addition to looking at characters' records in games. It is located on the lower left of the carnival.
Star Carnival Stage – The main stage of the Star Carnival, located directly in the center of the Star Carnival. The Star Battles are held here, and this is where the end-of-game ceremonies take place at the end of a Party Tent match.
Gallery
[
edit
]
Names in other languages
[
edit
]
Language
Name
Meaning
Chinese (Simplified)
星星嘉年华
Xīngxing Jiāniánhuá
Star Carnival
Italian
Fiera delle Stelle
Stars Fair
Spanish (NOE)
Feria de la Estrella
Star Fair
References
[
edit
]