User:DaWeegeeMan
From the Super Mario Wiki, the Mario encyclopedia
Jump to navigation
Jump to search
Who's online: UltraMario3000, Scrooge200, Prpro=03, 0blivion, Zootalo, Chris Helper, Dine2017, Partier, YoshiStar28, Just Epic, ThePowerPlayer, Shawnlongtendo, Waluigi Time, RHG1951, Jsylvan, Pk62001, Somethingone, My Pet Albatross, Fallingstar24, Luigi1234, BubbleRevolution, TheExoblade, POWERStarz2004, Ray Trace, DeepFriedCabbage, Qyzxf, SUPEDUPEmario
Hey I'm
DaWeegeeMan
you can just call me DWM. I am a big fan of the character Luigi. I found this wiki looking at some weegee articles:P. I really want a snes because it is the greatest system ever.
DaWeegeeMan
Oh and i like Cheese.
DaWeegeeMan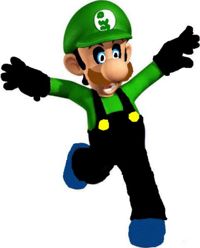 Name: Lewi
Created by:
Da
Weegee
Man
Lewi's age: 13
Lewi's Gender: Male
Lewi's Country:U.S.A.
Lewi's Birthday: April 30.
My Fav Characters
DaisyMSSart.PNG

The Tomboyish Princess is #3

Brawl Toon Link.jpg

The better Link is #7
My Goals
DaWeegeeMan's Userbox Tower
| | |
| --- | --- |
| vg-3 | This user is an advanced gamer. |
| | |
| --- | --- |
| | This user feels that the SNES was the last great console. |
| | |
| --- | --- |
| | This user never got to play a SNES. |
| | |
| --- | --- |
| 45px | This user likes the SSB character Toon Link. |
| | |
| --- | --- |
| 45pxF-0 | This user plays the F-Zero series. |
| | |
| --- | --- |
| 45px | This user's favorite Pixl is Cudge. |
Make 10 contributions
Make 50 contributions
Make 100 contributions
Make 250 contributions
Make 500 contributions
Make 1000 contributions
Make 2500 contributions
Make 5000 contributions
Make 10,000 contributions
Make 1 article
Make 10 articles
Make 50 articles
Make 100 articles
Improve Paper Mario Recipes
Become Sysop
Get an article Featured
Write for the Shroom
Games I've Played
Super Paper Mario (beaten 2 1/2 times)
Super Mario Galaxy (215 stars)
Paper Mario: TTYD (3 1/2 times)
Super Mario 64/DS (120/150 stars)
SSB: Brawl (All characters unlocked, all stages unlocked, SSE 87%, Challenges 15%)
Super Mario Sunshine (92 shines)
Mario Kart DS (Everything unlocked half staff ghosts beaten)
Mario Kart 64 (Everything completed)
New Super Mario Bros. (2* once 1* uh alot just 3 stared)
Mario Golf (Everything unlocked except Mario Star)
Mario Tennis (Half Characters stared)
Luigi's Mansion (Lost count after 15)
Super Mario Advanced 2: Super Mario World(100%)
Super Mario Bros. (Beat it)
SMB: The Lost Levels (Too Hard)
SMB 2 (played barely any)
SMB 3 (World 8 using whistles)
Mario Hoops 3 on 3(100% SSS RANKING)
Paper Mario(Beat Bowser and The Masterx3 once)
M&L:SS(Beat Bowletta once)
L:P.I.T(Beat 3 times)
Yoshi Story (Beaten with white and black yoshi)
My Friends