User:Blackfire Onyx
From the Super Mario Wiki, the Mario encyclopedia
Jump to navigation
Jump to search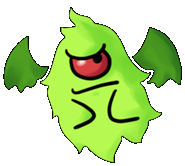 File:Koopalings - New Super Mario Bros U.pngThese Koopalings rock my mind...:D
Fandro
Real Name: Ethan
Gender: Male.
Country: You'll never find out! Although the USA is a hint...oh wait.
Favorite Mario Game:
Super Mario Galaxy
Favorite Character: ARGH I can't decide between

Ludwig von Koopa

and

Iggy Koopa

!
Age: 15!
Best Friend: He's not here on this site I think but his name is Sloopy678, better known as White.
Occupation: Being a moron. :P
Status on Wiki: AOK
About Me
Hello. My name is the Blackfire Onyx, previously known as Fandro. I originated on the Fandro Funny wiki as a noob. Then I found Fantendo and made many friends there. Later on I found this very impressive and well-made wiki. Here I hope to fix link errors and spelling errors and share my feelings.
It may be worth knowing that I may not add much to the wiki but I know lots of things and I might fix errors - who would want freakin' errors?
My Koopalings Obsession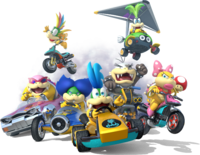 Yep, the Koopalings are the best video game characters I have ever seen. May sound bad to you but I made several fanworks on the Koopalings. Can't wait to get Mario Kart 8 and play as them all! I know lots on the Koopalings - although you likely wouldn't even WANT to know. If you want to hear one of my fanfics/fangames/fanwhatever - check me out. Just leave a message on my talk page.
Userboxez
My Mario Games
I have too many to list but I'll attempt to list them all.
Donkey Kong (1981)
Mario Bros (GBA remakes)
Super Mario Bros.
Super Mario Bros. 2
Super Mario Bros. 3
Super Mario World
Super Mario World 2: Yoshi's Island
Every Super Mario Advance game
Super Mario 64
Super Mario 64 DS
Super Mario Sunshine
Super Mario Galaxy
New Super Mario Bros.
New Super Mario Bros. Wii
Tetris Attack
Yoshi's Cookie
Yoshi's Island DS
Yoshi Touch & Go
Luigi's Mansion
Mario Party 2
Mario Party 6
Super Mario Kart
Mario Kart 64
Mario Kart: Super Circuit
Mario Kart DS
Mario Kart Wii
Super Mario RPG
Mario & Luigi 1, 2, & 3 (Saga, Time, Story)
Paper Mario
Mario Tennis
Mario Power Tennis
Dr. Mario
Dr. Mario RX
Wario Land 4
WarioWare: Mega Party Games!
WarioWare DIY
WarioWare DIY Showcase
Super Mario 63 (Unofficial, Internet flash game)
Friends
If you consider me a friend, either edit this section or if you can't leave me a message!
Goals
Goal Type
Goals
Edit Goals
Make fifty useful edits
Make one hundred useful edits
Make five hundred useful edits
Make a thousand useful edits
Make five thousand useful edits
Make ten thousand useful edits
Friend Goals
Make a friend
Make 5 friends
Make 10 friends
Make 20 friends
Make 30 friends
Make 50 friends
Source Goals
Make a userbox tower
Make an advanced table
Place a template on an article
Fix a table
Do any of the left five times
Do any of the left ten times
The Blackfire Onyx's Fanon Section
If this breaks any rules, you can remove it. I do not remember reading about fanon in the rules. Thank you.