User:BigBowserBoss
From the Super Mario Wiki, the Mario encyclopedia
Jump to navigation
Jump to search
"Stop, Links, Templates"

—

The most commonly used words in my talk page
Status:
I was recently involved in a car crash. I may not edit for a while.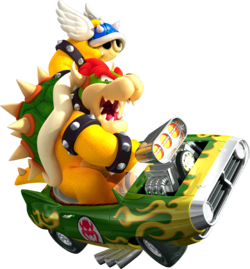 BigBowserBoss
Gender: Male
Age: 13
Birthday: 3 October
Favorite Mario Game: Super Mario Odyssey
Favorite Mario character: Bowser, of course
Least Favorite Mario character: Headbonk Goomba
Join Date:11 January 2021 (original account) 13 January 2021 (this account)
Favourite Pokemon character: Pikachu. (Bulbapedia link:Pikachu)
Edits in MarioWiki: 300+
Edit Goals Completed: 3
Rank:Autoconfirmed
Favourite Item: Fire Flower
Articles created:1
Images uploaded:2. (both personal)
Me across NIWA Wikis
BigBowserBoss across NIWA
A little about me
I had been visiting this site since 2012, but it took me nine years to create an account here. I had an old account called "TheEnormousWario" but I forgot the password for it. I registered on that account on January 12, 2021, and I registered on this account the next day.
BigBowserBoss's Userbox Tower
| | |
| --- | --- |
| | This user is not an administrator of the Super Mario Wiki and does not wish to be one. |
| | |
| --- | --- |
| en-n | This user is a native speaker of English. |
| | |
| --- | --- |
| de-4 | Dieser Benutzer hat Deutschkenntnisse auf muttersprachlichem Niveau. |
| | |
| --- | --- |
| it-1 | Questo utente può contribuire con un livello semplice di italiano. |
| | |
| --- | --- |
| fr-3 | Cet utilisateur peut contribuer avec un niveau avancé de français. |
Images I drew myself/Personal images