The 'Shroom:Issue XLV/Fading into Obscurity
From the Super Mario Wiki, the Mario encyclopedia
Jump to navigation
Jump to search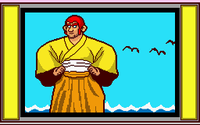 Hey guys! This month for Fading into Obscurity I decided to do a character that I really love. However he kind of died a long time ago, this month I'm doing: Sammy Rai!
Now, Sammy Rai is the epitome of a minor character. He appears for five seconds in the Mona stage of ''WarioWare: Touched!''. Now, he's one of my favorite characters because, through Knife (talk) and his PipeProject: Unstubify (sign up today!), I found the article as a stub and expanded it with all the information I could. I love that article Cheesy
Anyways, Sammy Rai's appearance in the game is for five seconds on a Radio Show called "Ear Candy" where he is announced the highlight artist of the week! He then has a snippet of music play and he appears on an ocean background and then he's gone...forever. However his music plays for a bit later on in the game but that's his last appearance. After that he just fades into obscurity.