The 'Shroom
:
Issue XCI/Retro Feature
From the Super Mario Wiki, the Mario encyclopedia
Jump to navigation
Jump to search
Baby Luigi
First article:
Sketch Related to Mario, Issue XLII
Last article:
Sketch Related to Mario, Issue XLVII
Sections Written:
Palette Swap: 5

Positions held:
Contributor
Hello, readers! I'm your Spotlight manager and Pipe Plaza Director, Yoshi876. Welcome to Retro Feature, a section in which I delve deep into the archives to bring you the best blasts from the past. This time I bring you a section from ace Mario artist, Baby Luigi (talk), in fact it's her first ever section!

Baby Luigi joined the MarioWiki on 10th September 2009, originally under the username, BabyLuigiOnFire. Baby Luigi made her 'Shroom debut during Issue XLII in Palette Swap, which was called Music & Artwork at that point. Her first section was Sketch Related to Mario, a section that had been absent from the paper for one issue. She would go on to write this a further four times, before retiring from The 'Shroom. She held no further positions within the paper. Issue XLII was an important issue for The 'Shroom, whilst the paper had been running for several years and several Halloween's had passed, there had never been sections themed around it. As Music & Artwork was the first section in Issue LXII, this made Baby Luigi the first user to submit a Halloween themed section, something which is still done today.
Baby Luigi is more known for her wiki and forum presence. She is currently in 8th position on the top 10 posters on the forum and has more than 18,000 edits to her name. Her edits were autopatrolled on 1st January 2013, but after the rank was repurposed she lost the rank. She is also a member of the poll committee.
However, you're not here to learn about the history of Baby Luigi, you're here to a view a classic section from issues gone by, so without further ado here is Baby Luigi's first ever section, the Sketch Related to Mario from Issue LXiI.
Sketch Related to Mario
Sketch Related to Mario (BLOF)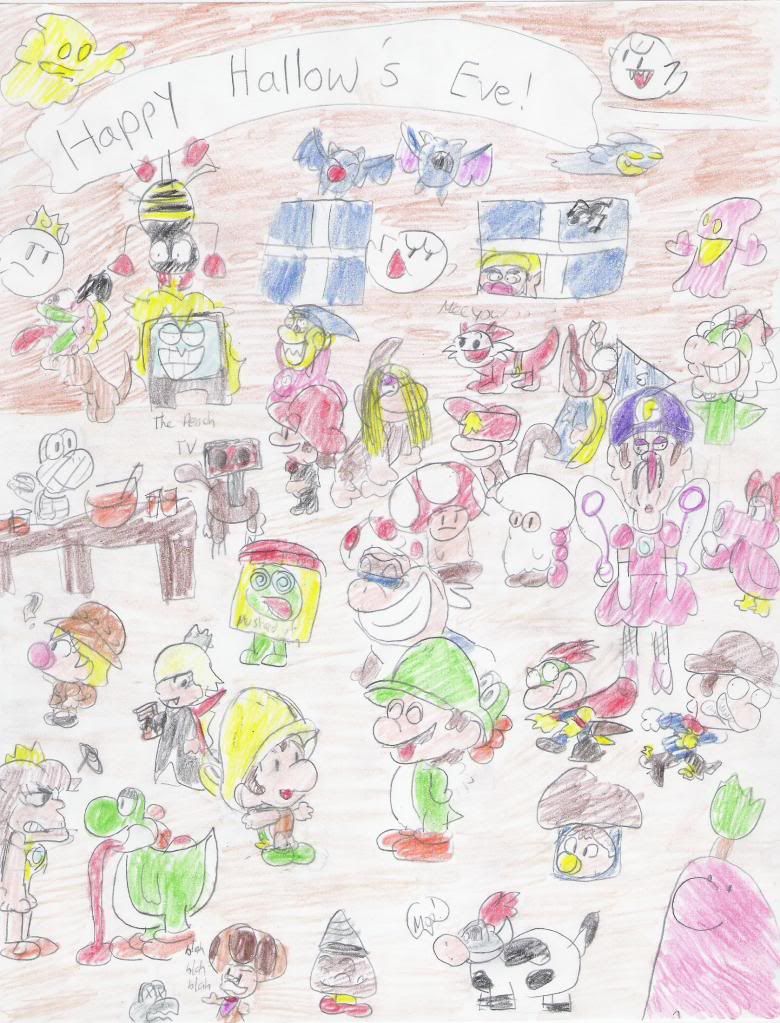 Boo! Did I scare you? You didn't!? WHAT!? Anyway, this is BabyLuigiOnFire here, with you on Sketch Related to Mario of the month! Due to this month being October, I drew something a little special here to fit the mood of Halloween. My picture is a Halloween Party, Mario-style! Various characters can be seen in this picture, most of them dressed up in costumes.

Hope you enjoy this picture. I spent a lot of effort trying to impress you and I added a colorful touch to this newspaper using my abilities to draw. Stay tuned for next month; I'll draw ANOTHER special picture. Guess what it's gonna be about!
Thanks for reading, and I'll see you next month for another trip back in time.