The 'Shroom
:
Issue LXXXIV/Palette Swap
From the Super Mario Wiki, the Mario encyclopedia
Jump to navigation
Jump to search

Hello, hello, hello all! Welcome to this month's issue of Palette Swap! I am very happy to announce that we have a new writer on staff with us: Yoshi876 (talk)! He will be writing monthy sections of What's On the Box, the first of which you can check out below! Read it and give him a warm welcome! As always, we are always looking for new writers to add to the staff! If you're interested or want to know more, be sure to drop me a PM on the forums! Without further ado, bring forth the art!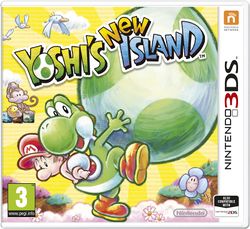 Hello readers, and welcome to What's on the Box? This month I have chosen the UK box art for Yoshi's New Island, which will be released later on this month. The box art is drawn in a hand-drawn manner, which was also the art style of the previous Yoshi's Island games. It shows Yoshi, with Baby Mario on his back, holding a Mega Eggdozer, the main new feature of the game. To the left of Yoshi is a confused-looking Grinder probably wondering how on earth Yoshi managed to get that out of him, and let's face it who isn't? The box art also features a Needlenose, a Crazee Dayzee and some Goonies, flying off into the sunset. However, that's not any old sunset, although the colours are different it is actually the Rising Sun Flag and is the military flag of Japan, it is also used on various commercial products from Japan and is flown by Japanese fishermen.

Despite the bitter temperatures that quite a few of us are feeling right now, there's one thing that everyone's looking forward to (well, everyone in school, anyways): Spring Break! So what better to ring in the Spring than with a sandy tropical enemy?



Here we are, a Sandoon from Mario and Luigi: Dream Team! Well, alright, a little pile of sand isn't that much of an enemy, but here's hoping that this little pile of sand helped to clear up those winter blahs we all seem to have!

---