The 'Shroom:Issue LXXX/Palette Swap
From the Super Mario Wiki, the Mario encyclopedia
Jump to navigation
Jump to search

Hello, all! I hope life is treating you right! This month, check out 'Featured Character Artwork' for sure- a very familiar face in a very familiar game makes an appearance! As always, we are always looking for new artists! If you'd like to contribute, whether one-time or monthly, send me a PM or a message and we'll sign you up! Let's get to it, then!

Featured Character Artwork (Paper Yoshi (talk))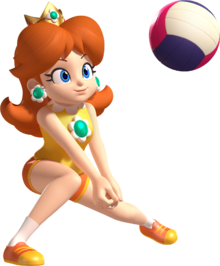 Hi, everyone, and welcome to Featured Character Artwork!!
This month, the fourth installment in the Mario & Sonic series, Mario & Sonic at the Sochi 2014 Olympic Winter Games, will be released in all regions except Japan, where it'll be released on December 5th. In order to celebrate that, I decided to feature Daisy's artwork from Mario & Sonic at the London 2012 Olympic Games in this section.
The Mario & Sonic games, based on the Summer and Winter Olympics, feature characters from the Mario and Sonic series, and include a set of real-life events, along with ficticious events (called Dream Events) set in locations from the aforementioned series. Three games, based on the Beijing 2008 Olympics, the Vancouver 2010 Winter Olympics and the London 2012 Olympics, have been released so far in the series; one additional game, based on the Sochi 2014 Winter Olympics will have been released in all regions by the first week of December.
Beach Volleyball is one of the real-life sports included in Mario & Sonic at the London 2012 Olympic Games, and Daisy's artwork from the game shows her playing said sport. This high-quality picture depicts Daisy wearing her main athletic outfit – a yellow tank top, orange shorts with yellow accents, a pair of orange-and-yellow tennis shoes and white bobby socks – while making an underarm pass, also called a bump, during a Beach Volleyball match.
Sketch Related to Mario (Turboo (talk))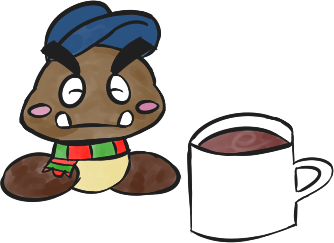 Why is the cup about his size? Why is there a handle on it if he has no arms? I don't know. You probably don't know. No one knows.
Incidentally, I probably should have drawn something like this for December instead, but what can you do? Maybe I'll draw something else then.
November brings Thanksgiving, exams, and long, lazy holiday breaks ahead! Not to mention the cold. On that note, our Featured Sprite is this, of an Icead, from Mario & Luigi: Dream Team:

. Poor thing looks a little chilled, perhaps it should get together with a Magmad and hopefully warm up a little! (Although that would defeat the point, I suppose.)

---