The 'Shroom
:
Issue LIII/Pipe Plaza
From the Super Mario Wiki, the Mario encyclopedia
Jump to navigation
Jump to search
Hey Guys! Marioguy1 here! I'm going away for the rest of this month but before I go, I would like to extend thanks to several people:
To Super Mario Bros. (talk), our amazing Director, who compiled this entire issue.
To everyone who voted the Pipe Plaza as the third-best sub-team in the 'Shroom Awards II
To Paper Yoshi (talk), the new writer of Mario Calendar
To everybody who has read this page so far and to everybody who plans to read it.
Thank you to all of these people, and now you can continue reading the issue!
Hello, 'Shroom readers, and welcome to the August Issue!
The last few weeks have seen a rise in Nintendo news, especially due to a fall in the 3DS's price. And before you think the early adopters got ripped off by Nintendo, the Japanese company decided to reward those loyal fans by giving them the opportunity to sign up for the...
Ambassador Program
The current 3DS owners who connect their handhelds to the Nintendo eShop before August 12th will be able to download 20 classic games from the shop. From those 20 games, 10 are NES titles, while the remaining 10 are GBA titles. Among the unveiled games, there are Mario titles such as Super Mario Bros. and Mario Kart Super Circuit, Yoshi's Island: Super Mario Advance 3 from the Yoshi series, and WarioWare, Inc.: Mega Microgame$ representing the Wario series.
Ambassador Release Dates
NES games: September 1st, 2011
GBA games: End of 2011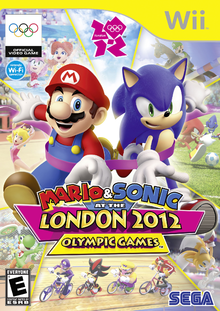 E3 Games Updates
On July 28th, the day Nintendo announced the 3DS price cut, two upcoming games had their final names revealed. Mario Kart 3DS and Super Mario 3D are now, respectively, Mario Kart 7 and Super Mario 3D Land. They also fixed release dates for those highly anticipated Mario games.
One day prior to Nintendo's big announcement, SEGA revealed exact release dates for the Wii version of Mario & Sonic at the London 2012 Olympic Games, along with the final boxart for said version.
Updated Release Dates (NA and Japan, unless noted otherwise)
Super Mario 3D Land: November 2011
Mario Kart 7: December 2011
Mario & Sonic London 2012 Olympics (Wii)

North America: November 15th, 2011
Europe: November 18th, 2011
---
And this is all for now! Remember to stay tuned to Upcoming Games for more news on the games you'll be playing soon! See you in September!
Tip of the Month: Work together with others on large projects for games that are older. If you can find a group of users who have a game that needs its information filled in, you can all work together on it and it will take less time than if one user did it alone.
NIWA News (RAP (talk))
Good day fellow MarioWikians, this is RAP! My apologies for the last month's issue, MG1 failed to notify me that warning via the NIWA forums...so, blame him for that. Before I will tell you my report - I would like you guys to read a very long(?!) interview regarding Super Mario Bros. (talk) interviewing me. It's been like months since the special interviews had passed by. Both of us were trying to plan a schedule together but screw ups are imminent. Please check it out.
Anyway, onto the main NIWA news:
~
~
~
Important news at the end of the section entry!
Check if you're in a rush!
---
The Fire Emblem Wiki just recently got a main page makeover! Think of the main page as a mixing bowl of StrategyWiki (notable spacing between two sides), Bulbapedia (roundy tables) and ZeldaWiki's (character heads) layout designs. What's more awesome is the collaborated artwork at the top of the main page. There, you will see from left to right:
In addition to that, for the last two months, the wiki has made some achievements and changes within the wiki, notably:
The wiki has reached 500 articles on July 24, 2011 - what's the 500th article? Saul. Congrats!
They also cut down the amount of stubs, from 80 percent to less than 50 percent.
Finally, although not very important, but it's still worth mentioning - the wiki just updated their mediawiki software to the 1.17 on 7/16/11.
---
It's StrategyWiki's turn! The wiki just reached 500 completed game guides. Two users, Procyon, and E-123Wario54; participated in a race to finish their game guides to reach for the 500th game guide! The latter finished Ultimate Spider-Man with 26 minutes before the former put the finishing touches for Mega Man. Congrats you two, for creating those two game guides! In addition, StrategyWiki's Facebook page reached one-thousand likes. Give those Strategy Wiki staff members a pat in the back!
---
Onto Metroid Wiki's side! The wiki is on full-force on celebrating the 25th anniversary of the Metroid series starting with a collage of Metroid images that depicts the series' grown acknowledgement of Samus going in the many adventures through exploration and fighting alien creatures - courtesy of Malake256's efforts per say. In addition, the wiki created a collaboration of links to websites and sections where they're celebrating the anniversary as well. Ranging from having amazing fan art, sharing experiences among those who played the series, to appreciating the sound of their music - there's something for Metroid fans to enjoy with.
---
Big news! This message comes from Moydow from the NIWA forums regarding an unveiling of a new wiki:
"Ladies and gentlemen, I am pleased to finally be able to publicly reveal the latest independent Nintendo wiki project, the one you've been waiting for: The F-Zero Wiki, brought to you by Mute City. Our plan is to hopefully expand the wiki into a full F-Zero fansite, with forums and other features. The wiki is another ex-Wikia project, and has undergone fine-tuning with members of NIWA staff prior to the public launch. Please pay the wiki a visit at http://mutecity.org , and feel free to help us out in any way you can. All help would be much appreciated!"
---
Smaller news tidbits regarding the current situation of the NIWA wikis include:
Nookipedia's SuperAlpaca is hard at work on redesigning the main page. If you want to throw in suggestions that will help him, come in and make your voice heard!
Zelda Wiki took a hard lesson after the mediawiki update debacle and has recently installed a backup drive that updates the data every single night. However, there might be side effects when it comes to editing during night time - such as loss of edits if you try submitting an update, server slowdowns, and image loading failure. Be careful!
---
Important news! There's going to be for the next two weeks (which will last from 8/12/11 to 8/26/11) The NIWA website will be experiencing short periods of downtime, and the occasional lagging from 8/12/11 (Friday) to 8/26/11 (Friday); this is due to major overhaul of the Bulbagarden servers (which hosts the Bulbapedia wiki). The following websites are affected: the NIWA website, the NintendoWiki, and the newly unveiled F-Zero Wiki - hyperlinked "mutecity.org". Don't tell me I didn't warn ya!
~
~
~
That's all the NIWA news for the last two months, or 60 days, or 1,440 hours, or 86,400 minutes, or 5,184,000 seconds. You know what I'm talking about! Thank you for reading this section, and I'll see you in another time fellow MarioWikians.
Anniversary Announcements (Ralphfan (talk))
The awards show was held this Friday! Thanks to all the presenters, you guys were great. The Mafia game is still going (at least it was at the time this was written) and you can check in here to see what's going on with the Super Smash Bros. Brawl tournament.
There isn't a whole lot about the Awards in this month's section because it was written before the ceremony. Fear not, next month's issue will include lots of special sections related to the awards.
The Awards ceremony took place on August 12. To make it the highlight of the day, the Mario Awards V board was upgraded from a Child Board to a Main Board and placed at the top of the forum.
Stooben's Mafia game is finally over. Somebody should've revived me. The Aliens, MCD, QuizmoManiac, Phantoms, Lario, Tucayo and Mijzelffan won. Lario, Tucky and Mij were the first three to win and Quizmo was next.