The 'Shroom:Issue 140/Palette Swap
From the Super Mario Wiki, the Mario encyclopedia
Jump to navigation
Jump to search

Director's Notes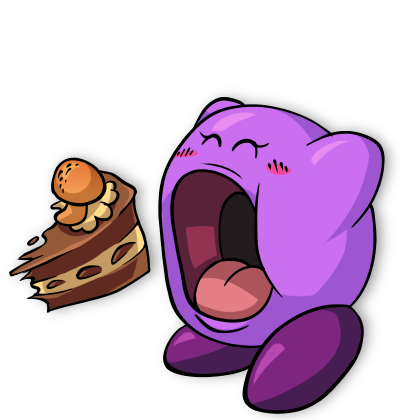 Hi, everybody! Welcome to the November issue of Palette Swap!
We're a little sparse this month for sections, unfortunately. You can help make a difference, though! Send in an application to write a Palette Swap section! You can choose a schedule that works for you, a section you want to write, or you can make a brand new section! Send in your completed applications to our Statistics Manager, LudwigVon to get your application process started!
I don't want to keep you from reading our fantastic art sections this month, so that's all for me this month! See you next month for the SMASHmas special!
~FunkyK38
Section of the Month
Another win goes to Yoshi876 (talk) for his What's on the Box? section detailing the boxart of the recent remake Luigi's Mansion on the 3DS. Congratulations, and thank you everyone for voting!
---
Art Sections
---
Pyro updates his list of community projects!
[read more]
What's on the Box?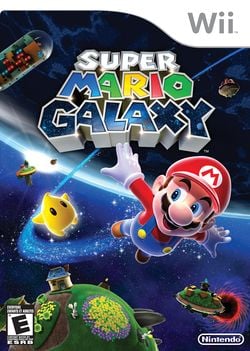 Hello readers, and welcome back to What's on the Box.
Even though I've been doing this section for several years now, I haven't covered many of the iconic Mario games, the big 3D platformers that made everyone love 3D Mario, or the iconic platformers from the NES and SNES era, so I figured that, at least for this section, I would change that.
And what better place to start than one of the more recent games that many people view as one of the pinnacles of gaming, Super Mario Galaxy. The boxart, even before I get into anything, is incredibly beautiful to look at. None of it looks barren, it captures that space feel, and as a consumer I am immediately sucked into it.
The boxart features Mario and a Luma flying through space, presumably after being launched from a Launch Star. They're passing various planets from the Gateway Galaxy and the Good Egg Galaxy. The boxart also gives you a brief preview as to two of the bosses that you'll be fighting in the galaxy, Dina Piranha and King Kaliente. There is also a Star Bunny on one of the planets, and in the background there's a Black Hole that appears to be pulling one of the planets in.
But even though this boxart is beautiful, there are a couple of things I wish it featured, mainly Rosalina and the Comet Observatory. It's not like they're secret things in the game, neither is it like they're late-game things, and seeing as they're both fairly central to the game's overall plot it would have been nice to see them somewhere in the background. Obviously, if they were included with what's already there, the boxart would run the risk of being crowded, but I would be fine with losing a couple of the planets that are there in order to accommodate them.
Overall, this is one of my favourite boxarts that I've examined for this section, despite what I think it's missing, it is still one of the most beautiful boxarts in the Mario series, and it manages to find that fine line between featuring enough to fill most corners, but not looking overcrowded.
Ongoing Fan Projects
Written by: The Pyro Guy (talk)
| User | Thread | Description |
| --- | --- | --- |
| YoshiSan | Visual Development (N' stuff like that) | A new art thread by YoshiSan, featuring gorgeous digital paintings such as a fusion of Mario and Fox McCloud. |
| BabyLuigiOnFire (Russian Baby Luigi) | BabyLuigiOnFire's Chicken Scratch (current projects: spriting garbage, 3D trash) | Originally active in 2013, this thread has been brought back to showcase new models and renders, such as a sunset shot of two Baby Luigis. |
| Fawfulthegreat64 (Fawfultheghost64) | FTG's art | A collection of FTG's Mario-themed artpieces. Here you can find art of Mimi, O'Chunks, and a recreation of a Paper Mario artwork shown in Smash Ultimate. |
| Koops (Isabelle) | Koops draws things and you should take looks or he's gonna be sad! | Look at all these drawings. Pokémon, Smash, Shovel Knight. Koops has covered all three known interests with his drawings, so you're bound to enjoy something here. |
| J & Siph | J's Artwork — Original and Fanworks | Here is a new thread by J-Yoshi, containing sprites and drawings of his characters, such as pictures and details about Bionicle. |
| Fawfulthegreat64 | FTG's videos and such | Here you can watch FTG's reaction to the November Smash Direct, and see a mashup of a familiar tune with a familiar trailer. |
| Luigi 64DD (Plague Knight) | Luigi 64DD's attempts at art | This is the place for all your Luigi 64DD branded art. The latest work is a drawing of Koops, Toadgamer, and the rest of the family. |
| Moldomré | Moldomré's Collection of Sprites & More | Moldomré has been posting sprites, recolours and drawings. He has shown off some variants of Yoshi, and has posted a WIP of a Piranha Plant recolour for Smash Ultimate. |
| Hello | Hello Mario Engine | Originally created in 2014, this open source Gamemaker engine could be used to create your own Mario games. It has now been updated with a myriad of powerups! |
| Alex95 | Alex95's Thread of Stuff (Power Master/The 'Shroom/YouTube) | A thread all about Alex95's various creations, from his Power Master games to his YouTube videos. He has announced that his Power Master wiki site hosted on Wikia has been discontinued, but the Gamepedia version is still up and running. |