The 'Shroom:Holiday Special/Art & Music
From the Super Mario Wiki, the Mario encyclopedia
Jump to navigation
Jump to search
Holiday Box-Art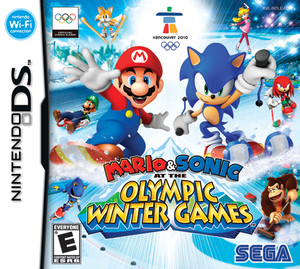 Now, I know, we've already featured Mario & Sonic at the Olympic Winter Games in Box-Art of the Month, but let me remind you that was for the Wii Version. And after all, unless there was a "Super Mario Delivers Presents" or a "Paper Mario: The Thousand-Year Christmas Tree", this suits the season the most. And after all, 'Tis the Season! Besides the winter theme, It showcases a variety of characters and events in a small space, and pulls it off well, earning it the award of Holiday Box-Art!
Holiday Character Artwork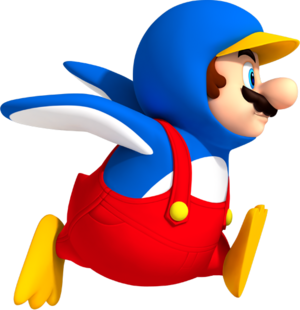 After this, It should be pretty obvious it's a holiday issue, as the Holiday Character Artwork goes to Penguin Mario. This newly introduced power-up from New Super Mario Bros. Wii is an enhanced form of Ice Mario, and has the ability to shoot snowballs and slide on ice. This artwork captures it nicely, and is well done.
Holiday Random Image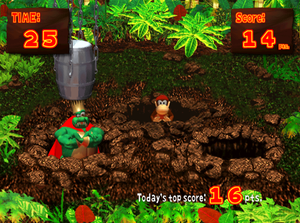 For once something not related to the holidays, simply a random image from a random page, showing King K. Rool and a Steel Barrel. A funny image, I might add.
Holiday Screenshot
Again with the Holidays, we have here a good quality picture of one of the new characters in Mario & Sonic at the Olympic Winter Games, Metal Sonic, in one of the new events, Ice Hockey.
Holiday Soundtrack
Behind every great boss, their is great boss music. With that logic, I present you with the Crystal King battle music from Paper Mario, aptly named Freeze[1]. This icy arrangement makes use of the chiller environment, while giving the song a slight techno feel.
Holiday Sprite

Again, something not related to the holidays, but a simple sprite of Donkey Kong from game of the same name. This makes the debut appearance of Jumpman, the Lady, and the original Donkey Kong.