The 'Shroom:Issue XLVII/Music & Artwork
From the Super Mario Wiki, the Mario encyclopedia
Jump to navigation
Jump to search
Director's Notes:
Hey everyone! This is your new Music and Artwork director, Fawfulfury65 (I'm sure you've already noticed, though). I've only recently been added to the core staff, but I hope I can help the 'Shroom as much as possible and make Music and Artwork even better than before.
We have two new writers this month: Ralphfan, who will now be writing for Random Image of the Month; and Master Koopakid, who will be writing for Photoshopped Image of the Month. However, we still have one open section as of now, and that's Music Factoid. If you would like to write, don't hesitate to ask me about it. I'll just need an application from you and we'll see if you get the job.
Sprite of the Month (FunkyK38):
For this month's Sprite of the Month, it's this little guy:

! It is February, and if I didn't do something with hearts, it would be weird. For Valentines' day, we have this little Love Bubble from Partners in Time.
Photoshopped Image of the Month (Master Koopakid):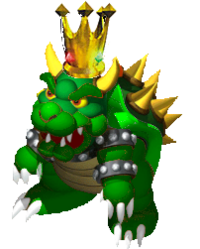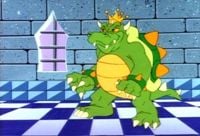 Hello shroomers! Welcome to the newly revived Photoshopped Image of the Month! This is Master Koopakid, and this issue is about an old T.V show that all you Mario fans loved... The Super Mario Bros Super Show! And in this issue we have a picture of that nasty old Koopa King revived to 3D! As you can see from the cartoon version of King Koopa, basically every thing is green. A notable difference is his crown. Bowser in the cartoons doesn't have hair so I had to give him a crown. If you can tell, the original artwork is from Super Mario RPG. If you have any questions, PM me on the forums!
Random Image of the Month (Ralphfan):
This image is a Bullet Bill from Paper Mario: The Thousand-Year Door. Bullet Bills appeared in Pirate's Grotto, with 2 HP, 4 attack and 1 defense, and were fired from Bullet Bill Blasters, allowing them to get a First Strike on Mario. When a Bullet Bill attacked Mario, it would explode on contact, thus quickly ending the fight.
Screenshot of the Month (Fawfulfury65):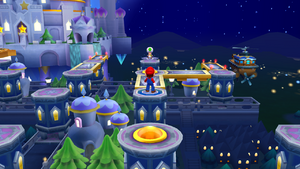 Welcome to this month's edition of Screenshot of the Month! This month, I chose an image from Mario Sports Mix, due to it being released this month in North America, Europe, and Australia. The game features four playable sports: hockey, basketball, volleyball, and even dodgeball. The image has amazing quality and it is huge. It shows Mario participating in a tournament in the Star Cup. Well, there you have it. Tune in next month for another Screenshot of the Month!
http://i925.photobucket.com/albums/ad98/MarioBabyLuigi/HighMaintenance.jpg?t=1297562229
Hello, BabyLuigiOnFire in! Sorry, this is not a recent drawn picture; I had nothing in mind this month, and the latest game, Mario Sports Mix has been drawing my attention away. But anyway, here's a sort of picture I drew a while back. It's called "High Maintenance", actually based off a song name by one of my favorite jazz bands. This picture is pretty self-explanatory, oh well.
It's weird since this picture has nothing love oriented in it, nor anything birthday related (it's my birthday on the 18th). Oh, I like this picture, so here's something "lovely" about it, ha ha ha.
See you next time in the 'Shroom!