The 'Shroom
:
Issue XIV/Fun Stuff
From the Super Mario Wiki, the Mario encyclopedia
Jump to navigation
Jump to search
True or False: Console Style!""
The Nintendo 64 was released in 1994
Super Smash Bros. Melee was the best selling game for the Gamecube
The era in which the Gamecube, Xbox, & PS2 were released was called the 128 era
There was a rumor there was going to be a DS with three screens
The first handheld game console was the Game Boy
The SNES was the first home console everreleased
Super Smash Bros. Brawl is for the PS3 & Xbox
Sega used to create game systems
Sega, Konami, and Capcom are big companies
Super Mario Bros. was for the Game Boy
When you're ready, click "show" to see answers! <showhide>__HIDER__<hide>Answers:
False
True
True
True
False
False
False
True
True
False
</hide></showhide>
Guess Who?
Riddle #1
I'm a part of the Koopa Troop
I've appeared in the Super Smash Bros. games as a cameo
I've appeared in two Mario Kart games: Mario Kart double dash and Mario Kart Wii
I have many sub-species
Riddle #2
I'm part of the Big 8
I've appeared in every Super Smash Bros. Game so far
I'm reptilian
I'm really popular
Ready? Click "show" to see the answers! <showhide>__HIDER__<hide>
</hide></showhide>
Mind Bogglers
What you have to do is find the five Items hidden in the picture.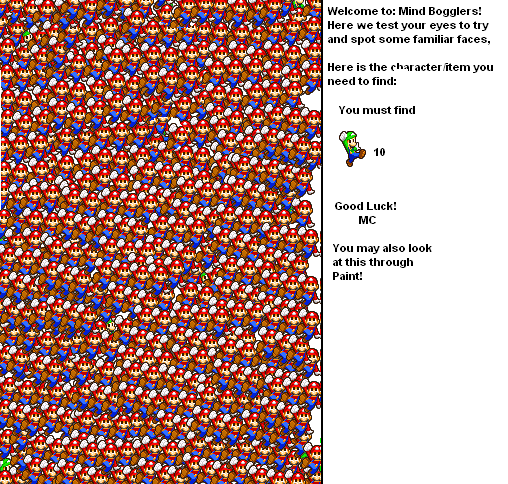 Ready to see the answers? Click here!
Find the Differences
Wow, I was late. Sorry about that... Anyway, here's the latest Find the Differences! There's five differences, as usual. And sorry for the fact that it's so giant. I didn't have time to scale it down. :')
The Original picture:
The changed version:
Ready to see the answers? Click here!