The 'Shroom
:
Issue XIII/Fake News
From the Super Mario Wiki, the Mario encyclopedia
Jump to navigation
Jump to search
WTF?!
Due to complications with the Fake News, Director, 3Dejong handed over his position to Stooben Rooben. Also, due to
the lateness in the month, only a few users were able to send in their sections. Please forgive the Fake News for a
partial issue.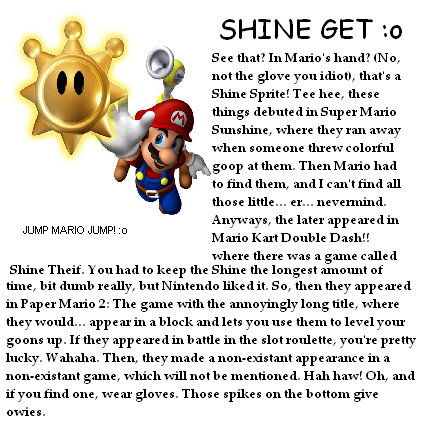 Interview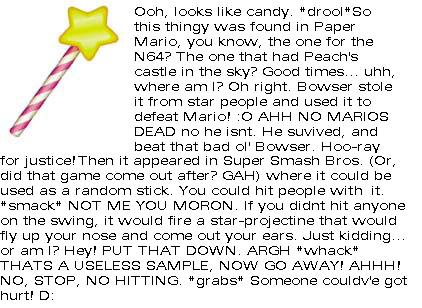 Ello Old Bean, now you'll call me Xpike and welcome to the interveiw this time interviewing Mario
Xpike: Were you surprised when you where told that you were going to star in a game?
Mario: It's-a-me Mario!
Xpike: I think this interview we already made it.. get the other guy.
*Shine Spirit enters room*
Xpike: How much money did 3D spend on the new Fake News...well do we have another guy?
Some Guy: yeah
*Sonic enters room*
Xpike:At last, what was your expresion when you first saw you were famous?

Sonic:It had been a long time (17), but it was like...
*Sonic shows a british expression*
Xpike: Very interresant... next question: How can you run at supersonic speed?
Sonic: How can you?
Xpike: Ummm... next question: How can you be in the Real World in Mario & Sonic?
Sonic: Space Time Continium Chaos Control
Xpike: And how can Mario?
Sonic: Who do you think I am, him?
Xpike: Well next: Do you know what lol means?
Sonic: laugh out loud (I didn't thought that these questions where so hard)
Xpike: Last question: How come you don't have B-Days?
Sonic: Ask SEGA.
Xpike: Well at least I got to speak with someone, See Ya Next Month.
Fake TV
Paper Wario: The Million-Year Door
A brand new TV series, Paper Wario: The Million-Year Door, will be debuting on the MTM channel this May. In similar fashion to the Paper Mario series, the story will start with Wario Bros., and he gains the help of many other users along the way to defeat a currently unknown enemy that bore a striking resemblance to Waluigi. The only partner of Wario Bros.' that has been revealed so far is WarioLoaf, who was interviewed on FOXY last Wednesday. Due to violent content, however, several Secret Service agents asked us to keep the interview under wraps until WarioLoaf is thrown in prison. Luckily however, the entire show has already been filmed, so you'll still get to see it!! That's all the info we have on this off-the-wall show, but tune in next time to find out more!!
Clash of the Koopas
Yet another new TV show, this one a nighttime drama, debuted just two weeks ago to rave reviews. Elbert and Rocker gave the show a rating of 9 out of 10, for "Superb graphics, detailed plot, and mesmerizing special effects." This is the biggest-budget TV show since 1215, and features many famous actors like Morton Koopa Jr., Wendy O. Koopa, and RAP. It has been rumored recently that RAP will be rapping in a future issue, and RAP himself confirmed this. While most of the plot is unconfirmed, in an exclusive trailer Morton Koopa Jr. and Wendy O. Koopa were seen fighting each other, but Morton was using RAP as a shield from Wendy's dangerous scissor-kicks. Only one episode has been released on the FOXY channel so far, but it has been confirmed that there will be about 90 more seasons. Watch next week for more of…''Clash of the Koopas!!''
THE CONCERT!

Last weekend, some lame concert with a bunch of little Toads playing littler instruments went on. The correspondent that was to cover this story disappeared after taking the picture to your right. If you have seen our correspondent, please contact us at 1-800-YOU-SUCK. Thank you.