The 'Shroom:Issue XCIII/Palette Swap
From the Super Mario Wiki, the Mario encyclopedia
Jump to navigation
Jump to search

Winter greetings, everyone, and a happy holidays, whether you celebrate Christmas, Kwanzaa, or end of your fall semester and exams, here's to a safe December for everyone! We've got some great work by our resident writers this month, so do check them out! Check out the End-Of-Year awards as well, as those are always exciting indeed! With that, let's get to the art! ~FunkyK38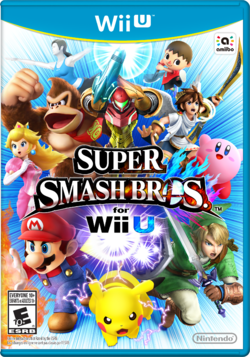 Merry Christmas 'Shroom readers! This month I chose a boxart of something Christmasy, hey, many people will get it for Christmas and it's partly blue it can count. Anyway, as you can tell I have chosen the American boxart for Super Smash Bros. Wii U. The characters featured on the boxart are Wii Fit Trainer, Villager, Donkey Kong, Samus, Pit, Princess Peach, Kirby, Mario, Pikachu and Link. This is one less than the 3DS, which is quite interesting seeing as the 3DS version is the weaker version technically, and yet in the boxart it's handling more characters. Also, many characters here are seen ready for battle, with the only ones who may not be are Kirby and Princess Peach who seem just happy to be there. Due to the blue lines on the boxart it looks like the characters are rushing into this battle. Another interesting thing is that all the characters on the boxart have original poses, except for the Wii Fit Trainer who is using her official artwork, and as a result of this she is the only character on the boxart who isn't facing forward.

Ongoing Fan Projects (Yoshi876 (talk))
Recently, I've been reading up on the new items from the newer WiiU games (since I don't have one yet!) and more than a few of them intrigued me, most notably the Double Cherry. Besides how it looks (Blue leaves?? What kind of tree does this thing grow on?), its ability to clone whoever picks it up can definitely lead to a lot of crazy hijinks! So, as I was looking for a sprite this month, I found this little gem, a Copy Flower from Mario & Luigi: Partners in Time:

! Seems to be the Double Cherry before it was conceived, or at least, the Double Cherry for the RPG games. In fact, if you flipped it 180 degrees… you'd kinda have what looks like a Double Cherry! Hmm, there's something odd for you to ponder!

---