The 'Shroom
:
Issue LXV/Fake News
From the Super Mario Wiki, the Mario encyclopedia
Jump to navigation
Jump to search

Editorial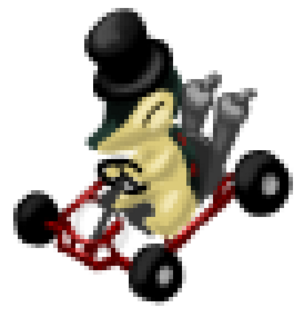 Hey guys, it's MrConcreteDonkey, and welcome back to the Fake News.
You may remember last month that there was a poll asking you to choose your favourite Fake News section of Issue 64. Well, the Fake News Section of the Month of Issue 64 goes to...
Edofenrir (talk) and his Weather Forecast, with 54 votes! Congratulations! Honourable mentions go to the Monthy Inquisition, by Koohitsu, and the News Flush, by me. But well done to everybody, because you all got at least 8 votes!
Anyway, I thought I'd put this image next to the editorial again, because I thought it would be fitting. After all, it is the 20th Anniversary of Mario Kart this month. Who cares about any other anniversaries? As if there were any...oh wait...
Thanks to everyone who voted for the Fake News in the favourite sub-team poll in the 'Shroom Awards! Also, congratulations to Gamefreak75 and KoopaTroop, who got first and third, respectively, in the poll for favourite Fake News writer. And, of course, congratulations to everyone else who's written for the sub-team in the past year too, even if you didn't place in the poll.
We had no staff changes this month, so I guess I've got nothing else to say here. Enjoy the section!

Hey, everybody, it's Pie Row, and welcome to yet another Travel Guide! This month, I'll be showing you a hot tourist spot - Melty Molten Galaxy! Get it? It's a lava galaxy? And it's a HOT tourist spot? Heh...heh...heh...
...wow that pun sucked.
Anyways, despite it still being summer, Melty Molten Galaxy is a great place to have a vacation! It's where the sun can't chase you!
Steaming temperatures plague the area, but that shouldn't be a problem. Natural hot springs are EVERYWHERE! They're so hot that I got third-degree burns! And my name is PYRO! Heh!...I'm really sucking here.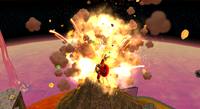 The main attraction here is the glorious Mt. Molten. It's a nice tourist attraction, but beware of hot springs. Oh, and Podoboos. But use the launch star inside the volcano to make it explode with star bits. I had a ton of them! I passed out after I had them because they were so honey-ish. At least, I THINK that was the reason...
The accommodation prices are affordable, and there's a popular course for people to jump on Star Balls and dodge pits and enemies without falling to their demise. Uh...many...have completed it and it's an...easy course.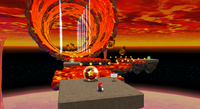 But there's one thing you should avoid in here, and that's Fiery Dino Piranha. He will RIP YOU TO PIECES. Believe me, I saw MCD get eaten alive by it! Then I revived him, because the Core Staff would never promote me to the Fake News director if I was responsible for MCD's death. Instead, they would FIRE me! HA! Get it? Because this month's Travel Guide is about Melty Molten Galaxy?...
*cricket sounds*
OH GOD DAMMIT.
This has been Pyro with the wonderful Travel Guide. Next month, I'll be making better puns. See you.

Hey, everyone! Your sports analyst, McZaky29 here with a report on some good old American football!
In this month's action, we bring you a cold rivalry between the Shiver City Penguins and the Shiver Mountain Gulpits. The Penguins took an early 6-0 lead off of two field goals, from 20 and 32 yards away respectively. This lead didn't last long, because the Penguins have a sucky football team the Gulpits followed up with a touchdown, a safety, and another touchdown all within two and a half minutes. The 16-6 lead extended to 23-6 by the end of the first half. An enraged Penguins fan ran onto the field after the Gulpits scored their second quarter touchdown, tackling one of the Gulpits' players. The man was immediately murdered evicted from the stadium.
The Gulpits scored 14 more points within the first half of the third quarter. In the final minute of the third, Shiver City scored their first touchdown of the game to make it 37-13. In the fourth quarter of play, the Gulpits began to fall apart. They committed 2 turnovers, both of which turned into a Penguins touchdown. The Penguins scored again to make it 37-34 with 1:36 in regulation. The Gulpits recovered the onside kick, however, they fumbled the ball on their second play, which was on the Penguins 16 yard line. Shiver City drove downfield, getting inside field goal range with a 38 yard pass to the 26 yard line. The kicker then had to attempt a 43-yard field goal from the left side of the field. This kick barely made it through the uprights as time expired, sending it into overtime.
The Shiver Mountain Gulpits won the toss, but decided to go on offense first for some stupid apparent reason. (Note: Overtime rules in Mushroom Kingdom Football are college rules) A slow, but effective, drive managed to score the Gulpits seven points to give them a 44-37 lead. On a fourth and twenty-five play because of Penguins wide receiver throwing an uppercut to a safety, a hook-and-ladder play gained them 31 yards, putting them on the Gulpits 9 yard line. Two plays later, the Penguins scored. However, with a great display of stupidity nerve, and great execution, the Penguins pulled a fake extra point, and won the game with the two-point conversion. The head coach of the Gulpits shot himself was very upset with his team's "poor display of skills" in the final quarter and overtime period.
That's all this month. Come back in thirty days for another great story. McZaky29, signing off.

Written by:

Chivi-chivik (talk)
Hi everybody! Here's your hostess, Chivi-chivik! And this is Cooking Guide, where we teach you how to cook excellent dishes!!
So, let's go!
---
I went to Zess T.'s. I don't know why.
Me: Hi!
Zess. T: You again?
Me: Yes.
Zess. T: Mmh... well, what do you want me to do this time?
Me: You won't say anything more today?
Zess. T: No. I think I'll get a headache soon... or some fever.
Me: Oh...
Zess. T: ...
Me: *snaps fingers*
Zess. T: ?
Me: I know what can make lower that feelings, instead of going to visit Dr. Mario!
Zess. T: What is it, miss deaf?
Me: This!! *shows a dish*
Zess. T: What's that?
Me: A Temperature Soup!
Zess. T: Temperature Soup?
Me: Yup! It will bring your normal temperature back! It can freeze or burn enemies too!
Zess. T: Great! How did you do this by the way?
Me: It is kinda easy. You just have to boil an Ice Storm until it melts and then throw inside a Fire Flower. Then wait for 10 minutes.
Zess. T: It's incredible that you have done something like this...
Me: Oh, stop it, you
Zess. T: I meant that you don't seem able to cook anything!
Me: *awkward silence*
Zess. T: Well, thanks for this.
Me: No probl... Oh snap! I've got a recipe for this month! I don't need to bother you anymore! Okay, take this and go to bed! *gives the dish to Zess T.* Byeeees!! *leaves*
Zess. T: ... *sigh*
---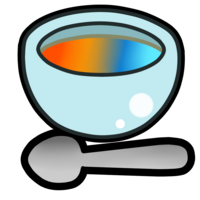 Summary:
Temperature Soup
Ingredients: An Ice Storm, a Fire Flower.
Boil the Ice Storm in a pan or something.
When it melts, put inside the Fire Flower.
Wait 10 minutes.
Effects: Freezes or burns enemies.
Thanks for being here reading, until next Cooking Guide!!

Written by:

MrConcreteDonkey (talk)
While I was driving around in that kart in the image at the top of the page, it blew up, and nearly gave me some serious injuries. Therefore, I had to buy a new car, so I went to a shop called Lakilarry's Kart Emporium.
The shop is run by a Lakitu called Lakilarry, strangely enough, and sells modern karts and kart parts.
| Item | Image | Price | Description |
| --- | --- | --- | --- |
| B Dasher | | 500 Coins | "Now you too can look like Mario, because you'll be driving his car! Wheels, engine, seat, rubber, toilet, keychains, globe and kitchen sink sold separately." |
| C Dasher | | 300 Coins | "The B Dasher's younger brother, modelled by Mario after somebody stole his last one. Unfortunately has been downgraded to C-grade parts. But it still works! Maybe!" |
| F Dasher | | 10 Coins | "This kart is a crime against nature." |
| Gold Kart | | 1000 Coins | "This kart is made of solid gold! How did it turn gold? I paint- er, hehe, I mean, I gave it a Gold Flower! How well does it drive? Er...moving on..." |
| Piranha Pipes | | 300 Coins | "May or may not contain Piranha Plants. This kart is made for two, so why don't you and that special someone take this for a drive and complain about how terrible it is together? Sounds romantic, eh?" |
| Sponge Wheels | | 60 Coins | "Now you can take your obsession with a certain cartoon even further! These absorbent tires can also help clean your kitchen, or your bathroom, or do other chores around your house." |
| Wood Tires | | 60 Coins | "Not reccomended for driving in hot places, by the seaside, in the city, around a garden, on a rainbow, or anywhere, really." |
| Peach Parasol | | 40 Coins | "This glider will protect you from the rain, and, for some reason, allow you to float. It's a jolly holiday with Princess Peach. Wait, what?" |
| Brick Block | | -20 Coins | "I will pay you to take this." |
It didn't take long for me to decide not to buy anything. But if anything here sounds good to you, you're mad. Stop reading and start getting help.

Written by: Toadbert101 (talk)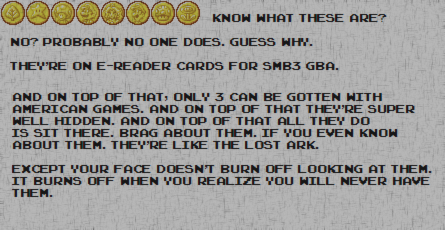 Written by: Travix Man (talk)
"I've gone on vacation. Updates have been delayed until next month.
Mushroom Police Force Chief,
TravixMan."

HI, wonderful readers! I'm your advice-filled Statistics Manager, Tucayo, and welcome to another installment of Ask Tucayo!

This month I got three questions, so let's get right to them. The first question was sent by Ralphfan, who asks:

What do you think about the Oakland Athletics?
Well, I like the A's, to be honest. I've always liked them. And the reason I have always liked them is because they share stadium with the Raiders, heh. But aside from that, Moneyball also made me like them more (even if the movie is basically against the Yankees and their money). I'd like to see them return to the playoffs this year. At the moment of writing this section they were 5.5 GB the Rangers and .5 GB in the Wild Card race, so I think they have a serious shot at returning to the playoffs.


I hope you didn't stop reading when I started talking about baseball. Next question comes from KoopaTroop, who asks:

Dear Tucayo,
I retired awhile back, and I had a 'Shroom article. Do I have to re-sign up or what?
-KT
Yes, retiring counts as resigning, so you'd have to contact the director of the sub-team you want to write for (you can check them here) and submit an application. Don't worry, if you were accepted in the past, you'll probably get accepted again.


And for this month's last question, we have an anonymous one. Our mysterious person asks:

Dear Tucayo,
Do you plan to write for The 'Shroom next year?
~Anonymous
Good question. At the moment, I haven't decided anything, but I'm inclined to say yes, you'll still see me around next year. Who knows, I may even run for Director.... I'm thinking out loud, ignore that last part.


And that's all for this month's Ask Tucayo! Remember, you can ask me about anything you want. My opinions on various subjects, advice, wiki/Shroom help, or whatever it is you want to ask. Just send me a PM! Until next month, BYE!
WAIT!!! STOP THE PRESSES!! Oh Poochy, I've always wanted to say that. I got a last-minute question from 54rtf3 who asks:

How do you get the mirror class? don't know how to figure out.
The subject of the PM was "mario kart wii", so I'll assume you mean Mario Kart GP. What? It's idiotic from me to think that? Oh well, it doesn't matter because it's done in the exact same way. You have to win first place on all 150cc Grand Prix. That's right, both the new and retro cups.


So unless I get another question, that's all on my part, BYE!
---