The 'Shroom:Issue 144/Fake News
From the Super Mario Wiki, the Mario encyclopedia
Jump to navigation
Jump to search

Editorial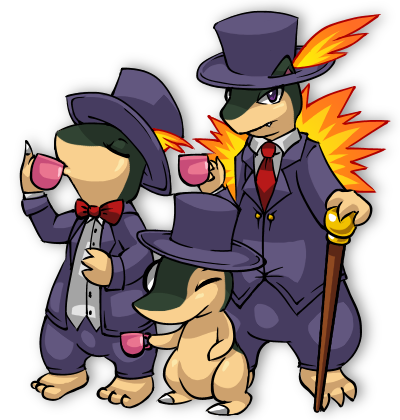 WELCOME TO THE FAKE NEWS! I'm MCD and I hope you're having a far less busy March than I am.
I have little else to say here and even less time to say it in, but I hope you enjoy this issue. Please remember that, as always, if anything reported in the Fake News does turn out to be true, contact me immediately.
No, wait. I'll contact you. See ya then!
Section of the Month
FAKE NEWS SECTION OF THE MONTH
Place
Section
Votes
%
Writer
1st
TV Tomorrow
28
50%
Quizmelon
2nd
Obituaries
18
32.14%
Yoshi876
3rd
Selling Out
7
12.5%
Raregold
---
Entertainment Features
---
Quizmelon tells us what to watch on the telly.
[read more]

Swiggler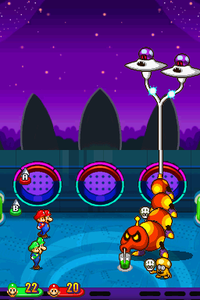 I must confess readers that I am a little baffled this month. Despite this creature being from a race of alien invaders, it is apparently still more crucial for me to write this obituary about its death rather than informing the rest of the world that aliens actually exist. Apparently, I'm only hired to do one thing around here. Anyway, Swiggler died.
Swiggler, for those who may not be aware due to the fact that he was an alien and had no friends around these areas, was an alien Wiggler who powered the Shroob UFOs, by drinking the vim from Toads. One would ask how the UFOs functioned if there was no Toad vim on their homeworld, but I'm not paid to ask these questions.
I attempted to contact the Shroobs about the death of their fallen comrade and, given how its alien biology was foreign to me, what on earth actually killed it. Unfortunately, however, the language that they communicated to me in cannot be written down on terrestrial keyboards, and I can't really translate. So, I'm going to tentatively guess that the Shroobs are sad about Swiggler's death and that he died from [insert your own comedic reason here].
Hitting upon a great new idea, I decided to see if any of the local Wigglers knew anything about this alien creature. However, as it turned out they just thought I was a drunk slurring my words, and none of them talked to me.
Swiggler will not be having a funeral on this planet, as the Shroobs came to take him away in their UFOs. However, without their fuel, last time I checked they're all waiting outside a petrol station hoping for something to give them the energy to get off this planet.

Welcome back to TV Tomorrow, the column with all the semi-essential information on Mushroom Kingdom television! Plenty of television, both new and returning, arrives on the Mushroom Kingdom schedules in March, and those of you without a fictional television programming converter* will be missing out on some excellent quality TV. Without further ado, here are tomorrow's top three televisual trinkets!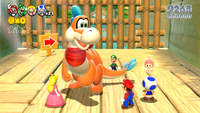 New: Plessie
MKBC2, 7pm
Genre: Fantasy/comedy drama
This lighthearted fantastical series focuses on the adventures of four heroes, led by Mario (playing himself, as always) who discover the fabled Plunging Falls - and subsequently meet its friendly inhabitant, Plessie. An emotional, humorous and highly enjoyable adventure follows. The first episode airs tomorrow, with the entire series lasting for twelve weeks.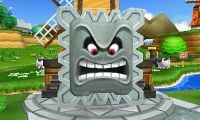 Thwomp's Terrible Trials
Koopa Troop TV, 7.30pm
Genre: Game show
After Bowser left Bowser and Thwomp's Challenge Base last year, effectively ending the show, Thwomp desperately rallied for a new game show with painful physical games. Earlier this year, he got his wish, and Thwomp's Terrible Trials, which airs again tomorrow with Kamek, Dry Bones and Monty Mole as contestants, is now poised to become a regular feature on Koopa Troop TV.
Course Creation Fun with Mario
MKBC Kids, 12.30pm
Genre: Children's arts and crafts
A longtime staple of MKBC Kids is Mario's intriguing course creation programme, where he (with the help of a mysteriously realistic human hand) builds amazing courses that you too can make at home! Today, Mario shows us how you can use wings to make a course really cool, and showcases some cool courses sent in by children from across the Mushroom Kingdom.
That's all for March's TV Tomorrow column today. Whatever television you do decide to watch tomorrow, I hope you enjoy it. See you in April on TV Tomorrow!
*Fictional television programming converters can be obtained by sending your credit card information and bank details to warioandwaluigi@thisisnotascam.com.**
**Please don't actually do that. - Quizmelon