User:McQueenMario
From the Super Mario Wiki, the Mario encyclopedia
Jump to navigation
Jump to search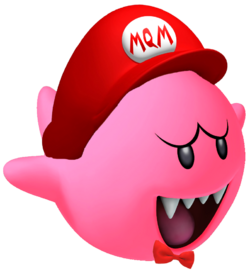 McQueenMario's Userbox Tower
| | |
| --- | --- |
| @ | This user can be reached by email (at tmeea@hotmail.com). |
| | |
| --- | --- |
| vg-3 | This user is an advanced gamer. |
game
dev
This user is interested in video game development.
Who's online: LuigiMaster123, MegaYarnPoochy, Niiue, TheDarkStar, Koopsultra500, Cheat-master30, Bmaster2020, WildWario, TheNKMaster18, PaperJacob, Broque, Yoshi the SSM, Mar E 0, CatSigma, Zootalo, Mateo, KiwiBird97, R-Star, BMatSantos, M.K, CD Ramos, Porplemontage, PhGuy12, Bri-11, Bubbsart, ReedyBuilder

Hello, I am

McBooBlitzman

and am a huge fan of the Mario series!
I love gaming and especially the Mario series! I am pretty good at Mario games but I'm no master. My favorite games of all time that I beat completely is Super Mario Galaxy and it's it's sequel As you may know, my favorite Mario character it Boo and my fan-character is called McBoo.
Please check out my Flipnotes: http://flipnote.hatena.com/56B89FA0CE1A524C@DSi/
Game System Friend Codes
Just tell me your codes and I will enter them when I get the chance.
Userbox
If you're my friend, you can have my userbox:
Coding
{{userboxp|border=hotpink|mainbkgd=red|codebkgd=white|codecolor=#000|code=[[File:Mcboo-idle-ML.gif]]|msg={{color|This user is friends with [[User:McQueenMario|McBoo-Blitzman]].|white}}}}