The 'Shroom
:
Issue XLIV/Character Reviews
From the Super Mario Wiki, the Mario encyclopedia
Jump to navigation
Jump to search
Well, this should be exciting! Welcome to Character Reviews, I'm your host, Marioguy1, here to begin a set of reviews! I am going to introduce a new feature, each month I will review last month's character quickly and then compare the two characters' scores at the end. So, last time on Character Reviews, I reviewed the big bad of BiS, Fawful! I pretty much praised Fawful for two paragraphs of each section. But when it came to BiS, I was too baffled to praise, that's where Fawful lost marks. He ended up with a 78% (yes, I changed it to percentages). This month, to compare with him, I'll be reviewing the green-bean thief, Popple!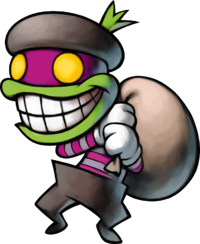 Now, to be completely honest with you, I have never played Mario & Luigi: Superstar Saga where Popple appears, but I'm reading his article so I should be able to deduce stuff.
Storyline
Popple is a recurring boss in M&L: SS, he is battled a whole four times over the course of the game; twice with a braindead Bowser, once by himself and once with Birdo. He isn't really too important to the storyline, he just helps integrate Bowser's storyline into the game and really serves no purpose of his own. His first battle introduces Bowser, the second one shows Bowser flying off, the third one shows Popple without Bowser and the fourth one introduces Birdo to the game to satisfy those millions of Birdo-fans. So basically, he's a puppet on the storyline string, 68%
Design
Popple
Is
Ugly
-Quote of the Month :3
But seriously, his green face is fine, the bandanna is a nice touch, the hat and tuft of hair on top (and the bag) all make him look like a thief. But what I can't get over is the fact that there is a gigantic triangle in his pants. Now that may or may not be suggestive to you people but to me, it's ugly, his upper body is thief-like but the lower half makes me shudder; 45%
Humour
Well, his design is certainly humorous but other than that, I haven't played the game and don't know if he has any funny lines. I do know that he calls Birdo and Bowser both Rookie which is slightly funny so I'm just going to give him a general 70%
Potential
Popple doesn't have much potential. He's a common thief, not too major of a character, he lives only to support his "Rookies" and shouldn't appear in another game. He could possibly star in a new game as the big bad but Nintendo won't do that so I'll give him 75%...
Used Potential
See, this is the thing, if the potential mark is low, the used potential mark will be high, 80% for using the little potential he has to the maximum extent; they basically puppeted around and made him support Bowser/Birdo to the utmost extent of his abilities.
Total
GameServ, do your math! <GameServ>: MG1: (68+45+70+75+80)/5 = 67.2 Well, in that case, Popple will get 67%, compared to Fawful's 78%, Popple is a worse character.
---
Now, I've been requested to run down a list of bosses in a game that I particularly liked by a good friend of mine so I will begin today with the first boss of the game; Lord Crump. Now, Lord Crump is a recurring boss in Paper Mario: The Thousand-Year Door, he is the X-naut lieutenant and keeps reappearing.
Storyline
Well, Crump is an excellent storyline character and fulfills all the roles of a lieutenant, going everywhere and being a good lieutenant for the X-Nauts. I honestly can't complain about him, he was a good storyline character. 90%
Design
This is where I get picky. Lord Crump Is Fat, LCIF, you'll be seeing a lot of that in this section. Now, my first and formost comment about this design: LCIF. Secondly, I think the red beard and stuff looks nice, it really gives him a Santa Claus (with red hair) look because, LCIF. The goggles beneath a spiked helmet would make him look like a warrior; if the helmet wasn't purple. That big, stretched out "X" makes his LCIFness tone itself down a lot so that it's not too much of a problem. Finally his pants are purple. I do not think anyone looks threatening if they are suffering from LCIF syndrome, which he is, so there's one more way too look at him; his outfit makes him look weak, which I think (hope) Nintendo was aiming for. So with respect to that, 80%
Humour
Crump's outfit, his "buhhuhuh"s, his speech, his overall patheticness all helps move towards his comedic superiority. He's basically a Bowser that can talk. So I say buhhuhuhuhuhuhu75%
Potential
He has a lot of potential considering he is the lieutenant of an army; he could lead the army, he could challenge Mario, he could take over a fortress, he could do all sorts of things, giving him a wide range of potential moves. He gets 80%
Used Potential
Anyone think I'm too lenient? Meh, anyways, he uses potential well, though I think he could have been a much more threatening character than he was but...I can't control it, he gets 75%.
Total
OK, GameServ's on break so I added it up; it's 400. Divide that by five and you get 80%; Crump is getting off to a good start.