The 'Shroom:Issue XCII/Palette Swap
From the Super Mario Wiki, the Mario encyclopedia
Jump to navigation
Jump to search

Hello, hello, hello all! Welcome to this month's issue of Palette Swap! I've received a few inquiries about submitting art on the forums, which I am always happy to get! If you want to submit a fan creation, send me the image for a preview and I will approve it and get it published! If you want more views for your art, post with the Shroom! Without further ado, bring forth the art!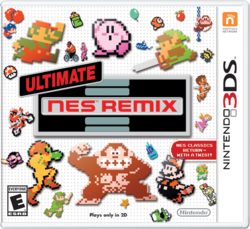 Hello 'Shroom readers, this month marks the release of Ultimate NES Remix, and boy does it have a retro feel to it. It has so many retro characters on it that my lack of knowledge on retro games does hinder my labelling skills, but I'll do my best. From top left, going clockwise there is: Balloon Fighter, Mario, some eggplant thing, Doc Lewis being followed by Little Mac, a Goomba in a Goomba's Shoe, Kirby, a balloon, a fish, a Waddle Dee, Link, a strawberry, Donkey Kong Jr., a Yellow Virus, Pit, Princess Peach, Fire Luigi, Dr. Mario, Raccoon Mario, Wart, a squid, Donkey Kong, a Starman, another Link, Samus, Meta Knight, an Excitebike Racer and a Super Mushroom. As the game is retro, all of the images on the boxart are sprites from the game in which they originate. Right in the middle of the boxart is the title, and this is cleverly designed in the shape of an NES controller, although lacking the buttons so you'll have to open that box and take the game out before you can start enjoying it.

Ongoing Fan Projects (Yoshi876 (talk))
Hello 'Shroom readers and welcome to the largest Ongoing Fan Projects since I've begun writing it! Hope you enjoy.
Hello, readers! For some odd reason, this week I've been on the biggest Donkey Kong kick ever! Watching Tropical Freeze on YouTube, however, showed me exactly how hard this game looks! As I told a friend earlier, "It's like the BattleToads of the WiiU!" I don't have anything for you from this game, but I do have a sprite from one of the big guy's only DS games: Donkey Kong: Jungle Climber!

Maybe they'll make another one from this series on the 3DS… can you imagine that style of play in 3D?

---