The 'Shroom:Issue LXXX/Closing Statement
From the Super Mario Wiki, the Mario encyclopedia
Jump to navigation
Jump to search
Sub-Director's Notes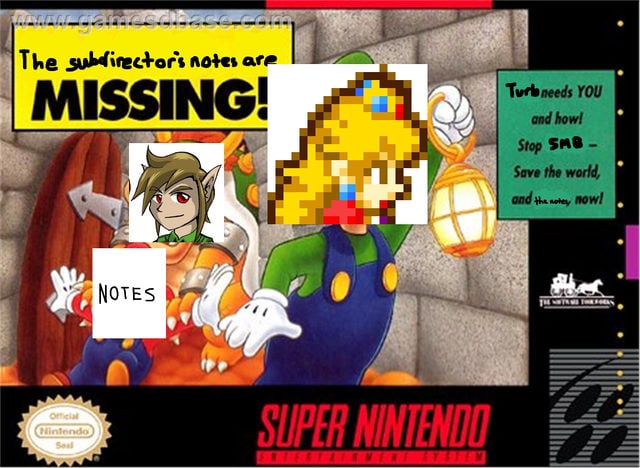 Closing Statement
Salutations! Welcome to the November 2013 edition of The 'Shroom. I hope that everybody celebrating Thanksgiving this month has a great time this year. I know that I am thankful for everybody that makes this project possible– the readers, the writers, the 'Shroom staff, and the Super Mario Wiki community. I am also thankful to Crocodile Dippy (talk) (who has resigned after directing the Critic Corner for over a year) for his time with The 'Shroom, and to Palkia47 (talk) for joining us as the new Critic Corner Director. We look forward to working with him for the next few months.
I do not have much more to share about this past month, but I do have a bit to share about next month! The 'Shroom will be featuring a Special Holiday Issue, and this means that we will have plenty of article content, special guest contributions, features and activities, and much more. We at the Core Staff have already started the planning for this special edition and everything is coming along quite nicely so far. We are sure that we will have a spectacular issue and that it will be a highlight for this year.
We will be releasing the Holiday Issue at 12 PM Eastern time on December 21st, 2013. As we have done with the past two Holiday Specials, we will be releasing this live and will have a party in #mwshroom to celebrate the release and the year in general. We will have a schedule posted up so that everybody knows which section will be released and at what time. We hope for this to be a fun and enjoyable time, so please be sure to attend the release party on release day! I will provide links to the chat room at the end of the Closing Statement.
The Mario Party: Island Tournament will also be wrapping up soon. We are currently running the final polls, so be sure to choose your favorite minigames out of the ones that were selected and see which one wins! We will tally up the results and present them in its own section next month.
We will also open up another Feedback Survey next month. These surveys allow the readers and writers to tell the Core Staff how they feel about the direction of the publication and to give suggestions on how to improve it! We will feature questions about the paper in general, special projects that we run, and about the Holiday Issue itself. We value the opinions and thoughts of our viewership– we would not be here without you. So please be sure to check that out next month once the issue is out!
One other thing I would like to discuss is the upcoming Director Election. For those who may not know, the members of the Super Mario Wiki are able to choose who they want to manage the paper annually. When the election begins in December, candidates are able to file campaigns and attend sessions to discuss their plans with other candidates. Whoever has the most votes by the time the January edition is released wins the election and will begin their term as Director. If you are interested in running for the position, you should start preparing now– come up with your plans, find somebody to run with if you want to have a running-mate, and consider what you might want to say in your Directorial Address should you win.
For the Director Election, there has been an important policy change: a filing deadline for campaigns will be implemented. For those who want to run in the election, you must post your campaign by January 11th, 2014. This will allow all candidates a chance to attend discussion sessions and give the voters a fair chance to view the plans that are being proposed. Last-minute campaigns can prove to be disruptive and disorderly, so we want to ensure that the process goes as smoothly as possible.
And that is all I have to share for this month! Thank you all for reading. We look forward to seeing you on December 21st, 2013 for the Holiday Issue. Be sure to come by #mwshroom (applet · Mibbit) at 12 PM Eastern on release day to celebrate the release with us!
Until next month,