The 'Shroom
:
Issue LVIII/Music & Artwork
From the Super Mario Wiki, the Mario encyclopedia
Jump to navigation
Jump to search

Director's Notes
Hello, everyone, and welcome again to Music and Artwork! To those who read last month's special issue, I hope you enjoyed it very much. I am very thankful for those of you who volunteered to write for it. You guys did a great job! If it's your first time reading, I am very pleased to welcome you here, and I hope you enjoy the issue!
There are currently two open sections for Music and Art, and they are: Photoshopped Image of the Month and Box-art of the Month. If you would like to write for one, or both, contact me either by PM, or on my talkpage. If you're not interested in either of them, but want to write, you can also head to here to see other 'Shroom jobs and more information about signing up. Also, if you have any Mario-related drawings that you want to show on the 'Shroom, you can send them to me, and I'll put them here.
Alright, I think that's it. Enjoy!
Screenshot of the Month (Fawfulfury65)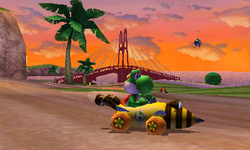 This month, I've chosen a picture of Yoshi from Mario Kart 7 as the screenshot of the month. It may not be the biggest picture out there, but it shows very beautiful scene. The track that Yoshi is racing on is Wuhu Mountain Loop (or Maku Wuhu, as it is called in North America), a straight-forward (no laps) track that is based off of Wuhu Island from Wii Sports Resort and other Nintendo games.
This main reason I chose this is because of the scenery. The sky really caught my eye, and the palm trees make it look a relaxing place to be. I like the bridge too, and the area overall looks like the perfect vacation spot. Far behind Yoshi and his Bumble V kart, you can see Donkey Kong, and, in the air, what seems to be a bomb-omb. Other than that, there doesn't seem to be any other racers or hazards in view, since the track is pretty low on obstacles.
This picture definitely deserves to be a Screenshot of the Month. Sure, it's a little small, but the image itself is just breathtaking. That's all for this month, and I hope to see you again for the next Screenshot of the Month!
Character Artwork of the Month (Marwikedor)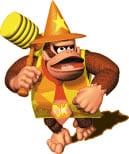 Happy New Year, 'Shroom Readers! Of all the sublime character artwork of the Marioverse, which one stands out to be named my pictorial pick of the first month of the year? When all is said and done, there is only one: Donkey Kong dressed like a wizard, 'tis you. My decision to name this great work the victor is imbued by that unbelievable fact that Mario Party 2 turns one dozen years old this month for we yanks. Mario Party 2 came out, believe it or not, in January 2000 in America. Not since that time has Uncle Sam ever played a Mario title just released in January. Let it sink in: A dozen years. I simply, emphatically, cannot believe it. I remember exhaustively playing Mario Party 2 when it first came out like it was only... Well, not twelve years ago, that's for sure. The artwork of Donkey Kong personifies the wonderful, yet lost concept of each character wearing different costumes/outfits suited to the theme of each of the game's board maps. DK also dons the garb of my favorite horror-theme board ever, Horror Land. A poster with this image of DK along with various other characters dressed accordingly to other boards to this day adorns my Nintendo Room wall. It is a poster from Brady Games. The only difference in regards to this particular image on the poster is you cannot see DK's feet because Yoshi's head is blocking them. Mario Party 2 is Mario Party at it's very best. How fitting this statement is, going along with the winning artwork: Mario Party 2 left us spellbound. Not just for Horror Land, but Pirate Land, Western Land, and all the great, delightfully simple yet utterly magical lands and moments brought to the fore. And in the future, I don't care how many marvels await us such as virtual reality games, etc. Mario Party 2 will always be a masterpiece of a party game. Not that Wii sports or party or resorts or whatever anyone calls that garbage. Mario Party 2 twelve years later is every bit as great as it was six and one or half a dozen minus six years ago. And it will be every bit as great 144 years from now. Even if no one plays it then, assuming man is still here, the euphoria the game gave I and millions others by playing it can never be extirpated from history. MP2 has left it's mark on the world. Here's to you, Mario Party 9. May your resolution for the new year help us all do what they say you can't: Go home again.
Sketches Related to Mario (Fawfulfury65)
I didn't receive any artwork this month, unfortunately. To make this section more interesting, I'll entertain you with a picture drawn by Shigeru Miyamoto, the individual responsible for everyone's favorite plumber. It seems to have been made for New Years, so it's appropriate for this time of year.