The 'Shroom
:
Issue LIII/Entertainment Section
From the Super Mario Wiki, the Mario encyclopedia
Jump to navigation
Jump to search
Hey everybody! It's SKmarioman! It's been a pretty big month already hasn't it? The anniversary, the awards show, the Brawl and Mafia games on the forums, it's been pretty big. The wiki has turned 6 years old, and I've been writing here for 6 months (that's six big things I've mentioned). So now, sit back, relax, and enjoy this month's section.
This month, it's going to be one I found by searching "Mario Award" on Newgrounds, and it is Mario: Shell Trouble by Sunrie!
Mario: Shell Trouble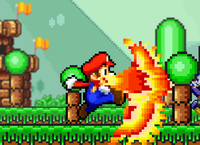 There are 10 skits in this quick flash animation, as proven by the fact that it is only 2MB in size. Mario finds an empty Green Shell and decides to kick it so hard that it goes into orbit. But every time he does, there's something there to stop him (two of those times he actually likes what happened to stop him).
In the first skit he kicks it speeding across the screen, where it flies into a Hammer Bro., killing it. In the next to skits, he almost kills Luigi and Toad with the shell, and Mario's happy about it. My favourite skit is the one pictured.
As you can see this month's issue is very short, because I'm running low on my limited monthly internet access. Anyway, see ya next month!