Nintendo Power issue 3
From the Super Mario Wiki, the Mario encyclopedia
Jump to navigation
Jump to search
Nintendo Power issue 3
Publisher
Nintendo of America
Release date
November/December, 1988
Nintendo Power issue 3 is the third volume of Nintendo Power, released in November/December, 1988.
On page 48, Jody Sage, listed as Agent #510, is said to have achieved 9,999,950 score in Super Mario Bros..
Page 87 lists Super Mario Bros. 2 in a set with NES Advantage and Zelda II: The Adventure of Link in the Giant Giveaway section.
NES Journal on page 92 starts with the sentence:
"Imagine for a minute what it must feel like, from Mario's or Samus' perspective, to try to navigate those mazes of pipes or futuristic corridors."
In the Video Spotlight section on page 100, Mark Timlin writes that he had defeated Bowser in Super Mario Bros. and saved the princess "over ten times in one game". Super Mario Bros. and its sequel are also mentioned by Sean Wilson. Diane Supowit and Ben Agoes are also said to have completed Super Mario Bros. on the next page. Danny Dunham describes how Ben ran under Bowser to defeat him. Ron Smalec writes that he's looking forward to getting Super Mario Bros. 2.
Mario is also seen holding an issue of Nintendo Power on page 109.
Contents
[
edit
]
Powerful Gift Ideas
[
edit
]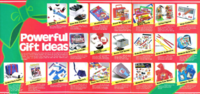 Pages 38 to 40 cover Nintendo-themed products. Many of them are Super Mario-themed.
Nintendo Character Sweatshirts
"Stay warm and look hot In these colorful sweatshirts."
Wormser (312) 564-8355
Slumberbag
"What better way to dream your way through all 8 Worlds of Super Mario Bros.?"
Ero Industries (312) 965-3700
Super Mario Lunch Kit
"Tote your lunch with your favorite Super hero. There's even a thermos. How about some creamy mushroom soup?"
Aladdin Industries (615) 748-3132
Nintendo Beach Towels
"When you head for the beach, you may not be able to take your NES, but you can still take your Nintendo favorites along."
A La Carte/Saydah (213) 263-9321
Nintendo Baseball Caps
"Get in the sporting mood with Zelda, Mario, and Punch-Out!! caps. They're tops!"
Universal Industries (617) 758-6101
Nintendo Underwear
"Only you know why you're having a powerful day when you're wearing these."
Union Underwear (502) 781-6400
Nintendo Suspenders
"Show your style with these great suspenders. Mario in red or yellow design."
Lee Company (212) 244-4440
Nintendo Back Packs
"Carry your favorite books, Game Paks, and even Nintendo Power in this convenient back pack. Why not get two?"
lmaginings 3 (312) 647-1377
Nintendo Athletic Wear
"Blaze to glory with these great sweats, shorts and tops."
Wormser (312) 564-8355
Super Mario Bedding
"Do you like to eat, breathe and sleep Nintendo? More Mario madness for your room."
Spring Industries (212) 689-0900
Nintendo Stickers
"Plaster your favorite characters everywhere. Mario on your wall, Link down the hall!"
Imperial Toy (213) 489-2100
Mario Rain Slicker
"Brighten up any rainy day with this Super Slicker."
Swellwear Industries (212) 736-7420
Nintendo Shirts
"A wide selection from tee's to tanks. Wear your favorite color with your favorite game."
Shift Shed (219) 563-8302
Super Mario Bros. cartridge appears on the photo for Game Pak Organizer and Game Pak Carrier.
Classified Information
[
edit
]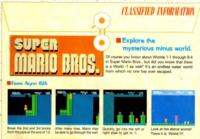 Minus World from Super Mario Bros. is featured in this issue's Classified Information section on page 55. It is described as "an endless water world from which no one has ever escaped".
Player's Poll
[
edit
]
Player's Poll section on pages 88 to 89 asked readers to participate in the poll about the third issue of Nintendo Power. The list for questions G, H, and I had the following Super Mario games:
Mail Box
[
edit
]
This section on pages 96 and 97 have the following Super Mario questions:
HOT TIP
"How do you find out all those tips for Super Mario Bros.? Do you get them from other members, or do you get them from yourselves?"
-Eric Shaw
An answer to this question advertises How to Win at Super Mario Bros.
THE NAME OF THE GAME
"I was wondering who created Mario."
-Jason Noggle
NES Achievers
[
edit
]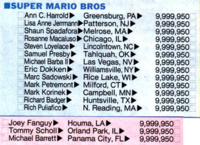 Only the top scores are listed:
Golf
David Temkin (Riohboro), Joe Pallotta (Staten Island), Richard Scott (Fresno) / -22, 50 (strokes)
Pinball
Mark Donagny (Torrington) / 622,380 (score)
Super Mario Bros.
Multiple people / 9,999,950 (score)
"Tops with our readers is "Double Dragon" with the new adventures of Mario and Luigi a close second."

—

Player's Forum, page 104
Top 30 covers two Super Mario games on pages 103 and 104:
6th: Super Mario Bros. 2 (5985 points)
"Mario and friends are on a new adventure that's even more fun than the last. Look for this one to keep climbing."
Players' picks: 2872 points
Pros' picks: 1178 points
Dealers' picks: 1935 points
11th: Super Mario Bros. (3140 points)
Players' picks: 2323
Pros' picks: 817 points
Dealers' picks: N/A
Golf
Players' picks: N/A
Pros' picks: N/A
Dealers' picks: 769 points
Pinball
Players' picks: N/A
Pros' picks: N/A
Dealers' picks: 448 points