Videoland
From the Super Mario Wiki, the Mario encyclopedia
Jump to navigation
Jump to search
It has been requested that this article be rewritten. Reason: relies on speculation (tagged on 13:30, 7 March 2018 (EST))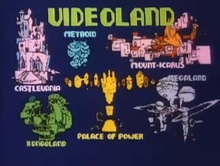 Videoland is a part of the video game world and furthermore the extended Super Mario franchise. Kevin Keene, otherwise known as Captain N, was transported to Videoland through a worm hole or vortex. Videoland contains Kongoland, presumably the homeland of Donkey Kong or his grandfather before moving to Donkey Kong Island. Videoland also contains:

The Palace of Power: The Palace of Power serves as both the ruling Capital of Videoland as well as the headquarters of the N-Team. The population of the palace itself is undocumented but must be rather large as the Palace of Power has been shown to be larger than Metroid itself and apparently contains warp zones connecting it to practically every known game world. It would be quite safe to assume any kind of room imaginable is located in the planet-sized palace. With such a proximity to the warp zones, it serves as the logical place for the ruler of Videoland to make his throne. During his capture and the disappearance of Prince Lyle, Princess Lana took control. The palace houses two powerful artifacts which are worthy of note: the Power Glove and the Sun Stone. The Power Glove is the Ultimate Warp Zone. From the Ultimate Warp Zone the champion of Videoland will come. The Sun Stone is a mystical stone which is the source for all power in the palace. In "The Trojan Dragon," the Sun Stone was stolen and brought to Dragon's Den. Luckily, Kevin and the N-Team were able to retrieve it.
Studio World: Studio World, the glitzy and glamorous entertainment capital in Videoland. Possessing no native inhabitants, Studio World is populated solely by actors, directors, screenwriters, and the production crew. Many of the buildings in Studio World are built high above the ground and are connected by a roadway of slides. The high state of the buildings was designed to maximize the room available for filming various projects. The slide-like roadways were constructed to make it easier to transport massive filming equipment and props. Marblopolis Studios is by far the most popular of the varied studios that makes its home in Studio World. The creator of the Wombatman Adventure Hour, Marblopolis's projects and section of the gameworld are all run by a central computer system to maximize efficiency.
The Real World: Otherwise known as Earth.
Castlevania: Where Simon Belmont resides.
Megaland: Where Mega Man resides.
Mount-Icarus: Where Kid Icarus resides.
Metroid: Where Samus Aran resides.
This article is a stub. You can help the Super Mario Wiki by expanding it.