User:PokéMario360
From the Super Mario Wiki, the Mario encyclopedia
Jump to navigation
Jump to search
"Mama-mia! I'm-a gonna vacate for a while!"

PokéMario360 is File:MarioPM2.jpg
PokéMario360's Userbox Tower
| | |
| --- | --- |
| vg-2 | This user is an intermediate gamer. |
| | |
| --- | --- |
| fan-3 | This user's favorite console is the Nintendo 3DS. |
| | |
| --- | --- |
| fan-3 | This user's favorite videogame character is Mario. |
| | |
| --- | --- |
| fr-n | Cet utilisateur a pour langue maternelle le français. |
| | |
| --- | --- |
| ar-n | اللغة الأم لهذا المستخدم هي العربية. |
| | |
| --- | --- |
| en-3 | This user is able to contribute with an advanced level of English. |
Hello, I'm PokéMario360. You may have noticed that I LOVE Pokémon !!! Well, if you want to know who are my top 3 ones, this is the 1st, the 2nd and this one the 3rd. I won't tell you anymore, I won't have a big mouth...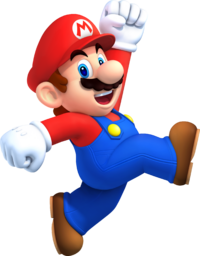 What I can be helpful in
Adding more informations about planets, how are they, what should be done to advance...
Providing levels names in French (look at the Tower!).
Help in other stuff about characters...
Ask me questions here for further info !