User:Mario Master 10
From the Super Mario Wiki, the Mario encyclopedia
Jump to navigation
Jump to search
Mario Master 10 is a big Mario fan and loves playing games. During the day, I like level designing on Super Mario 63 on http://runouw.com/viewprofile.php?name=Mario%20Master%2010
I like spaghetti
I like EPIC FACE
What is this?
A)A face
B)A Sad Face
C)An obviously epic face.
My Games List
(from first to last)
Super Mario 64
Mario Kart 64
Mario Party DS
Mario vs. DK 2
New Super Mario Bros. (DS)
Super Mario 64 DS
Mario Kart DS
Mario and Luigi: Superstar Saga
Mario and Luigi: Bowser's Inside Story
Super Mario Galaxy
Mario Kart Wii
Super Smash Bros. Brawl
Mario Super Sluggers
Mario Strikers Charged
Mario Party 8
New Super Mario Bros. Wii
Super Mario Galaxy 2
Mario Party 2
Yoshi's Story
Mario Kart 64(second copy)
Super Smash Bros. 64
Paper Mario (64)
Super Mario World
Super Paper Mario
Super Mario Bros. (Wii Shop Channel)
Super Mario Bros. 2
Super Mario Bros. 3
Mario Bros.
Super Mario Sunshine
Mario and Luigi: Partners in time
Mario Kart Double Dash
Super Mario Kart
Mario All Stars (Wii)
Mario vs. DK Miniland Mayhem
DK Country 2
DK Country Returns
Kirby Games List
Kirby's Epic Yarn
Kirby: Super Star Ultra
Kirby: Squeak Squad
Kirby: Mass Attack
Kirby's Return to Dream Land
Games I want
Super Mario 3D Land
Luigi's Mansion
Paper Mario 3DS
Mario Kart 7
Animal Crossing 3D
Kirby: Nightmare in Dream Land
Games I made up
(Note: If you copy my ideas without permission I will delete them ALL)(Also, I got some ideas from Nintendo, but I didn't STEAL them)
Kirby: Meta Knight's Revenge 3D - Meta Knight plans to take over Dream Land! This is based off of Kirby Super Star's Revenge of Meta Knight.
Kirby: A Long Way from Dream Land 3D - An all new original game. Kirby goes to sleep, and wakes up in a far-away land of No-Dreaming Land
Kirby: Novastar Quest 3D - Based on Kirby Super Star's Milky Way Wishes, but new story.
Kirby's Pinball Land 2 - The sequel to Kirby's Pinball Land (Gameboy).
Super Mario Wii U Adventure - A game for the Wii U based highly on Super Mario 3D Land, but new levels.
Super Mario Galaxy 3 - Bowser steals the great Mighty Meteor and uses it to control and make a new universe.
New Super Mario Bros. 2 - The sequel to New Super Mario Bros. Wii/DS
Super Mario 63
On Super Mario 63, I am known as Mario Master 10 (also) and I like making Super Mario Galaxy 3 Levels. The link is http://runouw.com/viewprofile.php?name=Mario%20Master%2010. Please remember to rate!
My Favorite Characters
241px
250px 220px File:TubbaBlubba.png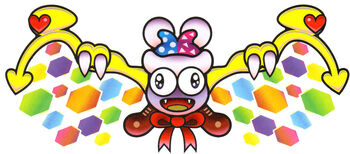 Super Mario 3D Land!
New Trailers: