Kinopio Live
From the Super Mario Wiki, the Mario encyclopedia
Jump to navigation
Jump to search
It has been requested that more images be uploaded for this article. Remove this notice only after the additional image(s) have been added. Reason: Gameplay images from "kukun kun kut - Toad Conductor's peculiar musical taste" (YouTube channel Cabbusses's Retro Obscurities)
It has been requested that at least one audio and/or video file related to this article be uploaded.
Please upload all related music, sound effects, voice clips, or any videos for this article. See the help page for information on how to get started.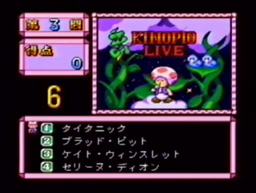 Kinopio Live is a minigame part of Satella-Q. Toad and his band perform multiple songs during the game. After the band performs a song, the player is given a total of ten seconds to figure out the name of the song from a list of four. Gameplay commentary is provided by Japanese radio hosts. Some of the songs included within the game are "My Heart Will Go On" by Celine Dion and songs by Elton John.
Gallery
[
edit
]
End of a song that shows the back of Mario
External links
[
edit
]
This article is a stub. You can help the Super Mario Wiki by expanding it.