Yoshi's Story (music)
From the Super Mario Wiki, the Mario encyclopedia
Jump to navigation
Jump to search
It has been suggested that audio and/or video file(s) related to this article be uploaded.
Please upload all related music, sound effects, voice clips, or any videos for this section. See the help page for information on how to get started.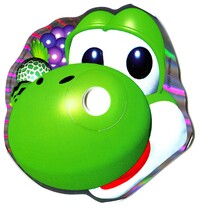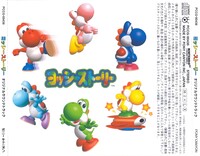 The music of Yoshi's Story was composed by Kazumi Totaka, who also voiced the star of the game, Yoshi. In North America, the music was released on a Compact Disc titled Music to Pound the Ground to: Yoshi's Story Game Soundtrack by The Original Shape CD, Inc. in 1998. In Europe, it was titled Love, Peace & Happiness: The Original Yoshi's Story Soundtrack and was released in 1998. In Japan, it was released on February 4, 1998 by Pony Canyon as Yoshi Story Original Soundtrack.
Between these three versions, there are several differences. While the Japanese version has fifty tracks and is 68 minutes and 17 seconds long, the European version has twenty-eight tracks and is 42 minutes and 2 seconds long. The North American version has only fifteen tracks and is 32 minutes and 23 seconds long. The North American version's CD is also shaped like the head of a Yoshi, creating complications for some CD players. The Japanese version includes some stickers and a bonus track featuring an interview with the creators.
Music to Pound the Ground to: Yoshi's Story Game Soundtrack
[
edit
]
Music to Pound the Ground to: Yoshi's Story Game Soundtrack
.
Composed by:
Kazumi Totaka
Publisher(s)
The Original Shape CD, Inc.
Release date
1997[1]

Media
Compact Disc
Track(s)
15
Length
32:23
Track List
Track Number
Track Name
Track Length
1
Yoshi's Story
1:16
2
Yoshis on the Beach
2:53
3
Yoshi Curry
3:26
4
Yo-Yo-Yoshi
2:34
5
Yoshis and the Wind
2:15
6
Steal Into the Tall Tower
2:05
7
Alpen Yoshi Music
2:24
8
Jungle Yoshi Fever
2:15
9
Yoshis in the Seabed
2:08
10
Yoshi Games
2:05
11
Yoshi's Disco
1:23
12
Page Medley
0:31
13
Baby Bowser Battle
2:02
14
Happiness
1:24
15
Yoshi's Tale
3:36
Love, Peace & Happiness: The Original Yoshi's Story Soundtrack
[
edit
]
Love, Peace & Happiness: The Original Yoshi's Story Soundtrack
.
Composed by:
Kazumi Totaka
Release date
1998

Media
Compact Disc
Track(s)
28
Length
42:02
Catalog number(s)
Art.-Nr.: 94033
Track List
Track Number
Track Name
Track Length
1
We Love...
0:04
2
Yoshi's Story
1:15
3
Yoshi's Song
2:50
4
On the Beach
2:53
5
Curry in a Hurry
3:25
6
Yo-Yo-Yoshi
2:35
7
Love is in the Air
2:14
8
Tall Tower
2:07
9
Alpina Blue
2:24
10
Come Back to Me
3:24
11
Jungle Fever
2:15
12
Yoshis in the Wind
2:08
13
Games of Happiness
2:05
14
Tough Guys Don't Cry
0:53
15
Spider Swing
0:42
16
Yoshi's Story Interlude
0:06
17
The Story Begins
0:27
18
Heartbeat Caverns
0:31
19
The Summit
0:32
20
Alone in the Jungle
0:39
21
Mermaid's Tears
0:46
22
Grande Finale
0:32
23
Baby Bowser's Lullaby
2:37
24
The Riddle
1:21
25
Let's Try It
0:43
26
Hard Times
0:41
27
Happy Together
1:03
28
Options of Love
0:37
Yoshi Story Original Soundtrack
[
edit
]
Yoshi Story Original Soundtrack
.
Composed by:
Kazumi Totaka
Publisher(s)
Pony Canyon, Inc.
Release date
February 4, 1998

Media
Compact Disc
Track(s)
50
Length
68:17
Catalog number(s)
PCCG-00438
Track List
Track Number
Track Name[2][3]
Track Name Translation
Track Length[2]
1
ニンテンドウ!
Nintendo!
0:04
2
ヨッシー・ストーリー
Yoshi Story
1:15
3
ヨッシーのうた
Yoshi's Song
2:51
4
海辺でヨッシー
Yoshi at the Beach
2:54
5
ヨッシー・カレー
Yoshi Curry
3:26
6
Yo-Yo-Yoshi!
Yo-Yo-Yoshi!
2:34
7
風に立つヨッシー
Yoshi Standing in the Wind
2:15
8
高い塔に忍び込め!
Sneak into the Tall Tower!
2:07
9
アルペン・ヨッシー・ミュージック
Alpine Yoshi Music
2:25
10
コマゲ~ン・ヨッシー
Come Again Yoshi
3:25
11
ジャングル・ヨッシー・フィーヴァー
Jungle Yoshi Fever
2:16
12
海底でヨッシー
Yoshi on the Ocean Floor
2:07
13
ペリキン・ヨッシー・アスレチック
Perrey-Kingsley Yoshi Athletic
2:05
14
ちょっと手強いヤツら
Guys that are a Little Bit Tough
0:54
15
ダブ・マスター・ミノボン
Dub Master Spider
0:42
16
おはなしのはじまりはじまり
The Beginning of the Story
0:07
17
はじまりの1ページ
Page 1: Beginning
0:28
18
とざされた2ページ
Page 2: Buried
0:31
19
くもの3ページ
Page 3: Clouds
0:33
20
ジャングルの4ページ
Page 4: Jungle
0:39
21
うみの5ページ
Page 5: Ocean
0:47
22
さいごの6ページ
Page 6: Conclusion
0:33
23
フルーツが30こ!!
Thirty Fruits!!
0:12
24
ヨッシーのきもち
Yoshi's Mood
1:05
25
またすこし しあわせになった
Becoming a Little Happier Again
0:36
26
ボスの部屋へ
To the Boss's Room
0:12
27
ボスとうじょう!
The Boss Appears!
0:28
28
ボスとのけっとう
Duel With the Boss
1:45
29
ヨッシーのかち!
Yoshi's Victory!
0:18
30
ヨッシーのディスコ
Yoshi's Disco
1:23
31
ベビークッパのおしろ
Baby Koopa's Castle
2:37
32
ベビークッパのおしろのナゾ
The Mystery of Baby Koopa's Castle
1:22
33
ベビークッパとうじょう!
Baby Koopa Appears!
0:47
34
ベビークッパとのけっとう
Duel With Baby Koopa
2:02
35
ベビークッパはんげき
Baby Koopa's Counter Attack
1:15
36
ヨッシーのかち!~ベビークッパのつよがり
Yoshi's Victory! ~ Baby Koopa's Bluff
0:53
37
ベビークッパ退散
Baby Koopa Retreats
0:15
38
ヨッシーのしあわせ
Yoshi's Happiness
1:24
39
レッツ・トライ!
Let's Try
0:44
40
7つのメロンをめざせ
Aim for Seven Melons
0:42
41
ゴール!!
Goal!!
0:07
42
7つのメロンを手にいれた!
Seven Melons were Collected!
0:42
43
おっこちてダウン
Fallen Down
0:16
44
だれもいなくなった
Everyone's Gone
0:19
45
サンキュー白ヘイホー
Thank You White Shy Guy
0:13
46
ヨッシー・ルーム
Yoshi Room
1:04
47
「オプション」ってなに?
What is "Option?"
0:37
48
ヨッシーのおはなし
Yoshi's Tale
3:37
49
ヨッシーのスタッフ
Yoshi's Staff
1:29
50
ヨッシーのスタッフの声(ボーナストラック)
Yoshi's Staff's Voices (Bonus Track)
7:29
References
[
edit
]