Category
:
Pokémon series
From the Super Mario Wiki, the Mario encyclopedia
Jump to navigation
Jump to search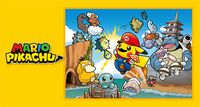 Pokémon is a franchise jointly owned by Nintendo, Game Freak and The Pokémon Company. It is a multimedia franchise spanning video games, animated series and movies, manga, trading cards and merchandise, all of which focus on the capturing and training of the eponymous creatures. Pokémon is one of Nintendo's most successful franchises, rivaling the Super Mario franchise itself. The two franchises have most notably crossed over in the Super Smash Bros. series; additionally, both series have made occasional references to each other, including with an official "Mario Pikachu" merchandise line.
Subcategories
This category has the following 3 subcategories, out of 3 total.
Pages in category "Pokémon series"
The following 122 pages are in this category, out of 122 total.